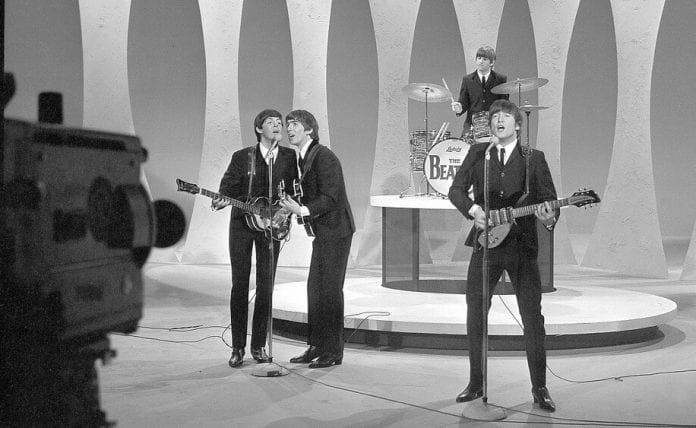 ---
On the 9 February 1964 the Beatles performed on the Ed Sullivan show for what would be the beginning of the 'British Invasion' in America and marking a milestone in American pop culture.
The Ed Sullivan Show was an American TV Variety show that ran on CBS. 1948 – 1971. Virtually every type of entertainment appeared on the show.
The Beatles appeared on three consecutive Sundays in February 1964 to great anticipation and fanfare as" I Want to Hold Your Hand" " had swiftly risen to No. 1 in the charts.
David Segal of The New York Times interviewed a married comedy duo for the This American Life podcast who were also on the show that night. It's an interesting slant on the historic performance and shows a rare insight backstage from eye witnesses. Charlie Brill and Mitzi McCall from Los Angles flew to New York to perform on the Ed Sullivan show for what they thought would be their big break. However they had no idea who they would be performing with or how zealous the crowd would be. Listen to the podcast here (Act One) it's worth it.
McCall told CBS Los Angeles that, in hindsight, it was "An honour. We were there when the world changed."
The Beatles' performance on 9 February drew an estimated 73 million viewers; at the time a record for US television. The Beatles followed Ed's show opening intro, performing " All My Loving"; "Til There Was You",  which featured the names of the group members superimposed on close-up shots, including the famous "SORRY GIRLS, HE'S MARRIED" caption on John Lennon; and "She Loves You".
Rare colour footage of a show on their North American tour that followed will be auctioned next month as part of the Omega's Auctions' annual Beatles auction. It was filmed by the father of a member of their support act. The 10 minutes of footage is from the band's performance in Montreal, Canada in September 1964 and shows their performance and the press conference that followed. A strong police presence can also be seen surrounding the Beatles at the time. It's thought the 8mm film could sell for £10,000.
Picture Credit: julio zeppelin