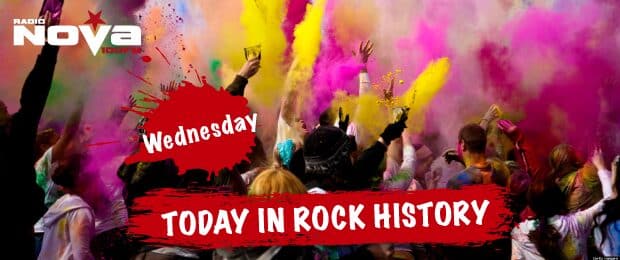 It's important to know your rock history, here at Radio NOVA we bring you ten rock stories from the sixties, seventies, eighties, nineties and the noughties.
On this day in rock history: October 29th.
1965: The Who released the single 'My Generation' in the UK. The song was named the 11th greatest song by Rolling Stone on their list of the 500 Greatest Songs of All Time.
1971: Duane Allman of The Allman Brothers Band was killed when he lost control of his motorcycle while trying to swerve to avoid a tractor-trailer. He was three weeks shy of his 25th birthday.
1977: The Belgian travel service issued a summons against The Sex Pistols claiming the sleeve to the bands single 'Holidays In The Sun' infringed copyright of one of its brochures.
1983: Pink Floyd's Dark Side of the Moon enters its 491st week on the Billboard album chart, surpassing the previous record holder, Johnny's Greatest Hits by Johnny Mathis. When it finally fell off of list in October 1988, 'Dark Side' had set a record of 741 weeks on the chart.
1984: American drummer Wells Kelly from Orleans and Meat Loaf died aged 45 after choking to death on his vomit. He had the 1976 hit singles with Orleans, 'Still The One' and 'Dance with Me.'
1987: Rolling Stones guitarist and occasional painter Ron Wood gets his first public art presentation called 'Decades'. The exhibit featured mostly portraits of Wood's famous friends over the past two decades.
1988: Dire Straits scored their fourth UK number 1 album with Money For Nothing.
1996: The Stone Roses split up. Singer Ian Brown said 'having spent the last ten years in the filthiest business in the universe, it's a pleasure to announce the end of The Stone Roses.'
2001: Winners at this years Q awards included, Ash, best single for 'Burn Baby Burn', Starsailor won best new act, Travis won best album for 'The Invisible Band', Manic Street Preachers won best live act and John Lydon won the Inspiration award
2005: The wax figures of the younger Beatles used in the cover of the band's Sgt. Pepper's Lonely Hearts Club Band album are auctioned off for €103,000 in London after being discovered in the backroom of Madame Tussauds' famous wax museum.