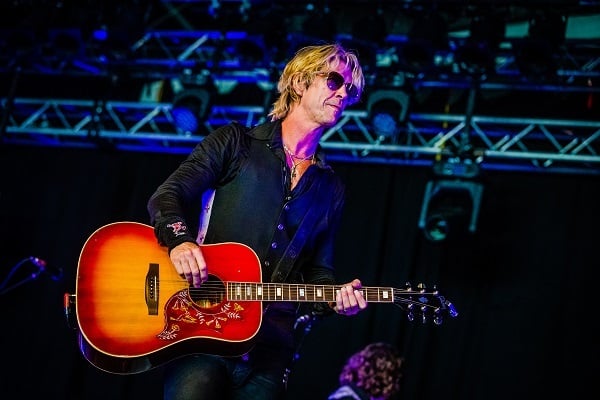 Would you like to listen to the article instead of reading it?
Duff McKagan has just announced his latest solo album 'Lighthouse'.
The album which features 11 tracks, includes a string of star studded collaborations between McKagan and several household names, including his Guns N'Roses bandmate Slash, along with Alice in Chains' Jerry Cantrell and Iggy Pop.
McKagan's collaboration with Pop also marks a full circle moment, having previously appeared on Pop's album, as well as serving as a member of his touring band.
'Lighthouse' will arrive on October 20, and you can pre order it here.
DUFF MCKAGAN UNVEILS LIGHTHOUSE

Pre-order exclusive versions today – out Friday, October 20, 2023

The album will be available in several limited variations, including CD, deluxe CD with fold-out photo print, cassette, standard black vinyl, and deluxe vinyl in a host of colors,… pic.twitter.com/QtL6uCe6yi

— Duff McKagan (@DuffMcKagan) June 14, 2023
Previewing the album, McKagan has also released the title track 'Lighthouse'. Check that out below.
"crestling waves"
Outlining the main theme of the album, Duff McKagan had this to say.
"The crashing…. the cresting waves, the falling through of all that surrounds you. Life sometimes tosses us around, and we feel the want of comfort and the pull of home", the Guns N'Roses bassist said.
"A ship tossed like a toy through the Cape, sails ripped and the wood groaning with the scraping of its ballast…. a soul trying with all its might to find peace and a center".
McKagan added, "Find a lighthouse. I have my lighthouse…. its beacon swirling in the darkness with her warmth and promise of nurture, love, laughter, and all that is true. Won't you be my lighthouse, give me light,… and bring me home".
'Lighthouse' Track List
You can check out the tracklist for the latest Duff McKagan solo album below.
'Lighthouse'
'Longfeather'
'Holy Water'
'I Saw God on 10th St.'
'Fallen'
'Forgiveness'
'Just Another Shakedown'
'Fallen Ones'
'Hope' (feat. Slash)
'I Just Don't Know' (feat. Jerry Cantrell)
'Lighthouse' (Reprise) (feat. Iggy Pop)
This album also serves as a follow up to the EP released by McKagan in aid of mental health awareness month.
Find out more on this from Nova here.