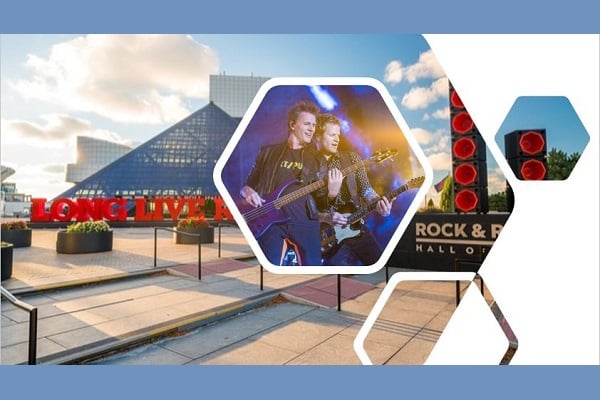 With the Rock and Roll Hall of Fame nominations recently announced, there is excitement in the air of the music world. As this year's ballot "recognises a diverse group of incredible artists", there is a wide variety of music being represented. Along with fellow 80s wonders, Pat Benatar, and Kate Bush, Save A Prayer group, Duran Duran have received a shout for its Class of 2022.
The British New Wave band is nominated alongside a class of a variety of iconic names in the industry, including first-time nominees; Eminem, Dolly Parton, Tribe Called Quest and Beck. Incredibly excited to be nominated, bass guitarist, John Taylor said; "What a surprise and an honour! To be nominated by such a highly esteemed organization is truly special in this, our fortieth, year.
"For decades now Duran Duran have been inspired by the incredible support of our beautiful and diverse fanbase around the world. To be considered by the Hall of Famers is truly next level. Let's hope we make the cut!"
Simon Le Bon added, "Just to make it onto the nominations list is an honour that I never expected to experience… But for sure, this distinction is due in large part to the fact that we have an army of fans around the world who have unwaveringly supported us for the past four decades.  We are all extremely grateful to all of you for making this happen."
Duran Duran drummer, Roger Taylor revealed the feeling "was pure gratitude when I heard this morning that we are nominees for induction into the Rock & Roll Hall of Fame. A big thank you to not only the Rock Hall for making us part of the ballot, but also to all our fans who have made so much noise over the years. The 12-year-old drummer in me just screamed very, very loudly!"
From inducting Roxy Music into the Hall of Fame in 2019, to becoming inductees themselves, Duran Duran has a big connection to the Rock and Roll Hall of Fame, and indeed, music culture. They fit nicely into chairman, John Sykes description of this year's ballot recognising "a diverse group of incredible artists, each who has had a profound impact on the sound of youth culture."
Fans can vote on their pick for the Hall of Fame on the website here or, by visiting an interactive kiosk at the Rock and Roll Hall of Fame Museum in Cleveland. Meanwhile, Roger Taylor last year revealed that a Duran Duran biopic is on the horizon, and released their 15th studio album, Future, Past.