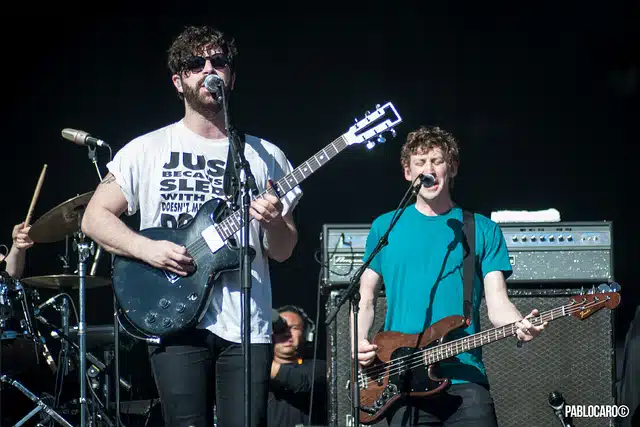 Foals have released a new track called 'What Went Down' off their forthcoming album of the same name. They released it yesterday, along with a video to accompany the new track.
They premiered the track on BBC Radio 1's Annie Mac show, also making it available to download from soundcloud directly after. The band were interviewed after the track reveal, with frontman Yannis Philippakis saying this about the new song "It is one of the most savage and animalistic songs we've ever done. When we play it in a room, it just feels predatory, it feels like we're on a hunt or something".
Yannis talked about recording the vocal for the song saying "[Producer] James Ford really pushed me to get into a place with the vocal texture where it was just like berserk." The song definitely has the same aggression as songs like 'Inhaler' and 'Providence', so hopefully the rest of the album will follow a similar thread.
On the album as a whole, Yannis said they are really proud of it "Ford really pushed us and we couldn't be happier. It's going to be our best album, that's how we feel at the moment, which is unusual for us to feel that at ease. I think this is the record where a lot of the different sides of the band have come into focus." You can check out the video for their new single 'What Went Down' below.
Photo Credit: Pablo Caro