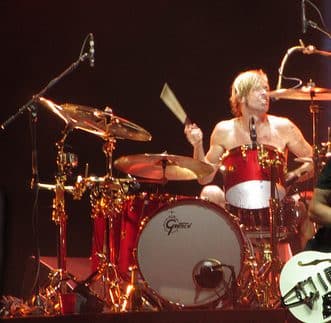 Frontman Dave Grohl reveals that Foo Fighters are set to headline Slane 2015.
The American rockers have previously performed at the venue in 2003, supporting the Red Hot Chili Peppers.
Now the group are joining an elite list of headliners that includes U2, The Rolling Stones, Oasis and Kings Of Leon.
The news comes just days after the Foo Fighters released their new album Sonic Highways on November 7th.
It's the group's eighth album and features guest appearances from Cheap Trick's Rick Nielson, Death Cab For Cutie's Ben Gibbard and The Eagles' Joe Walsh. Nielson played guitar on their first single 'Something From Nothing'.
Listen to the 'Something For Nothing' below.
The new record clocks in at 44 minutes and features eight new tracks. It's release coincides with the new Foos documentary also titled 'Sonic Highways'. The eight part series follows the band as they travel across America recording one song in each city they visit.
Speaking to NME about the album, drummer Taylor Hawkins Hawkins says: "We like the way our band sounds, naturally. I want drums to sound like drums, as opposed to a drum machine. We kept it as humanly perfect as possible but nothing more. It's as perfect as we can be, which is not perfect."
The record was produced by Butch Vig, member of the Wisconsin rock band Garbage. He previously worked with Foo Fighters on their last record Wasting Light in 2011, as well as working with Dave Grohl in 1991 on Nirvana's break-through LP Nevermind.
The band are set to take to the stage at Slane Castle, in County Meath on May 30th 2015. More details to follow.