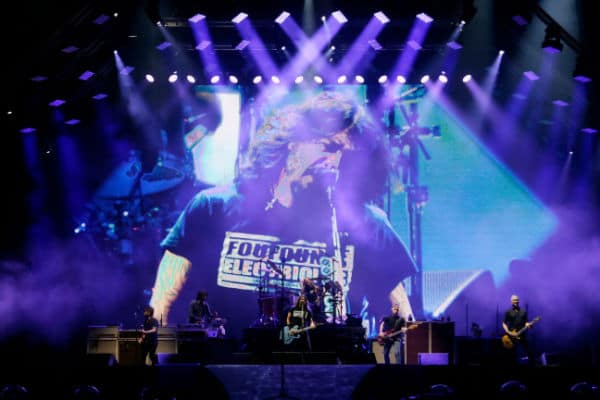 Would you like to listen to the article instead of reading it?
Foo Fighters have confirmed that their latest album is being dedicated to the late Taylor Hawkins and Virginia Hanlon Grohl, the mother of frontman Dave Grohl.
Foos drummer Taylor Hawkins passed away aged 50 in March 2022, with Virginia Hanlon Grohl passing away a few months later in late July.
The album 'But Here We Are' will arrive on June 2 via Roswell Records/Columbia Records, and is the first new album released by Foo Fighters since Hawkins' death. Pre order here.
A press release has said that the album is "the first chapter of the band's new life" and "a brutally honest and emotionally raw response to everything [the band] endured over the last year". Find out more here.
"For Virginia and Taylor"
The album's orginal packaging was designed by graphics art studio Morning Breath Inc, who also took to Instagram to reveal that 'But Here We Are', is dedicated to absent friends of Foo Fighters.
"It's always an honour to work with [Foo Fighters]. This is the design for their latest album 'But Here We Are'", the studio wrote. "This is the design for their latest album 'But Here We Are'. Definitely a new turn for us as we explored minimalism and new techniques printing white on white". Check that out here.
Elswhere, Foo Fighters also shared another single from the album, 'Under You', having previously released 'Rescued'. 
Supporting the album, Foo Fighters have also announced a global streaming event, which will take place later this month. Find out how you can buy tickets for this show here.
This could be the moment that we discover who takes over as drummer for Foo Fighters. Several names including Glen Power and Matt Cameron have been linked to the role.
Last month, Queen's Roger Taylor also responded to rumours that his son Rufus could join Dave Grohl and co. Taylor Hawkins was Rufus' godfather, and also performed on stage with the band previously. More on this here.