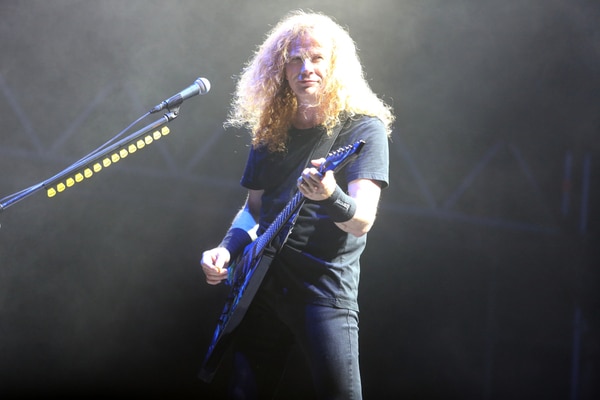 If you are willing to pay £187.50, Megadeath's Dave Mustaine will record a personalised video for you!
Dave Mustaine has joined the US video sharing website Cameo. On this website, celebrities make themselves available to record a personalised video message to fans. This is all for £187.50.
For this fee, Mr Mustaine is at your service, willing to say whatever words you wish to put in his mouth. Within reason of course!
"Hey I'm Dave Mustaine"
Announcing his arrival onto the platform, Mustaine said, "Hey, I'm Dave Mustaine and I'd like to invite you to have me send a personalised greeting from Cameo for you to your friends". 
He also added, "I can say 'Happy Birthday,' 'Happy Anniversary,' 'Merry Christmas,' 'Happy Hanukkah' — whatever", he added. "Or my personal favourite is, like, 'F—.' No, we won't get into that here. But I will tell you that if you do have me do a Cameo for you, a portion of the proceeds will go to charities that I support".
Mustaine also tweeted this video.
If you wanna MEET THE REAL ME, find me on @BookCameo. https://t.co/3Zuem0nSNJ pic.twitter.com/vWcQPu5ATy

— Dave Mustaine (@DaveMustaine) July 1, 2021
More than 30,000 celebrities have signed up for this website. These include Alice Cooper for £125. Other musicians also include Slayer/Exodus guitarist Gary Holt for £18.75, Justin Hawkins from the Darkness for £56.25 and Max Cavalera for £37.50.
You can also get
Mötley Crüe's Tommy Lee
shouting at you for for £375, The
Jesus Lizard's
David Yow will cost £22.50.
Megadeth part ways with Dave Ellefson
Ellesfon has strongly denied the accusations.
The band released this statement.
"We are informing our fans that David Ellefson is no longer playing with Megadeth and that we are officially parting ways with him. We do not take this decision lightly. While we do not know every detail of what occurred, with an already strained relationship, what has already been revealed now is enough to make working together impossible moving forward."