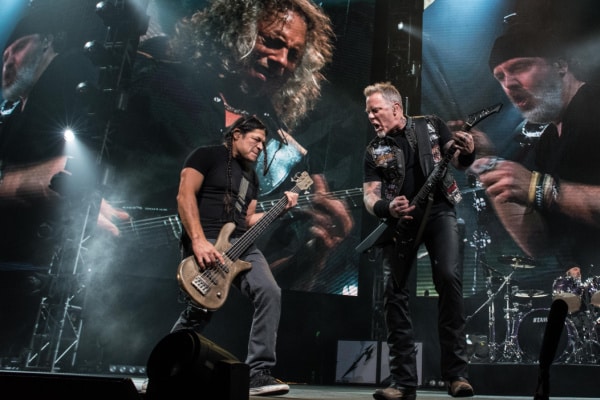 Would you like to listen to the article instead of reading it?
Fortnite lovers will have the chance to to use an emote of Metallica track 'Master of Puppets', in reference to Stranger Things character Eddie.
While the emote does not include skins of band members Lars Ulrich, Kirk Hammett, James Hetfield, or Robert Trujillo, it has been reported to have been unlocked by users, according to the official social media channels of Fortnite.
Avatars are used in the game instead, who perform the Metallica track in a suburban setting.
This track which was originally released by Metallica in 1986, has enjoyed a recent resurgence in popularity following its use in the Netflix sci fi hit.
Pull some strings with the Master of Puppets Emote with music by @Metallica 🤘 pic.twitter.com/DP7hCIgMDQ

— Fortnite (@FortniteGame) December 14, 2022
In fact earlier this Summer, the band also joined forces with the Netflix hit to release a special branded t shirt. More on this from Nova here.
'Master of Puppets'
This Summer also saw Metallica release a brand new video for 'Master of Puppets' such was the resurgence of its popularity.
The single itself was the the title track of their 1986 studio album, released via Elecktra Records.
Metallica released an all-new lyric video. It also includes dark and twisted imagery. The video also contains animated shots of neon crucifixes, puppets, lightening and more. Check it out and more here.