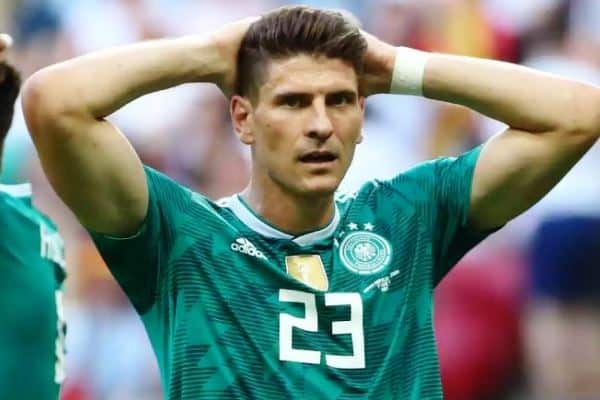 The world champions Germany have spectacularly crashed OUT of the World Cup after conceding twice in injury time to South Korea as they pressed for the goal which would have sent them through.
In an astonishing and enthralling end, Kim Young-gwon's 92nd-minute goal – which was initially ruled out for offside before being awarded after a video assistant referee decision – left Germany on the brink.
Worse was to come however, when deep into stoppage time a desperate goalkeeper Manuel Neuer lost possession in the opponents' half. Ju Se-jong launched it forward where Son Heung-min tapped into an empty net to score the second.
It is the first time since 1938 a West Germany or the unified Germany team has not advanced beyond the first section of the tournament as Joachim Low's side finished bottom of Group F. Sweden topped the group with Mexico second and South Korea third.
Manager Low, who took Germany to World Cup glory in Brazil four years ago, will face strong questions over his selections. A gainst South Korea, Low made five changes, including recalling Arsenal's Mesut Ozil and dropping Thomas Muller, although the Gunners' midfielder did not justify his selection with a poor performance.
However, Germany had been poor throughout the tournament, losing 1-0 to Mexico in their first match and needing a last-minute Toni Kroos goal to beat Sweden 2-1. Sweden's 3-0 win against Mexico in the other Group F game settled the score overall.
It means Germany's hopes of becoming the first team to retain the World Cup since Brazil's victories in 1958 and 1962 ended in embarrassing fashion especially as South Korea went into the match with no points from their opening two games after losing 1-0 to Sweden and 2-1 to Mexico.
German coach Joachim Low was left in state of shock:
"I'm shocked. Shocked because we didn't manage to pull it off and beat Korea Republic and we lost this game. It wasn't my impression when I spoke to the team before that they were under pressure before the match because the Sweden game was on at the same time and we really had the feeling that our team wanted to move ahead and qualify for the knockout stages.

"How do we go from here? We'll have to talk about it calmly and I think it's premature for me to say something. It will take me some hours to come to terms with it and I'm incredibly disappointed by this elimination.

"Do I think this will bring about a dark time in German football? No, I don't think so. I think we have young players who are very talented, and some have the potential to go forward. This has happened to other nations before, we just have to draw the right conclusions and make it better going forward."
Shin Taeyong was delighted to beat the world champions:
"I feel great but at the same time I feel a little bit empty, so I feel a little bit ambivalent. Yesterday we said there was only a one per cent chance and so I told my players it really was a last-ditch effort for them and I told them that they had to fight until the end.

"Germany are the defending champions and No1 in the FIFA Ranking, so I thought about what mistakes Germany might make, because they probably felt they would be able to beat us – that's what everybody thought. I thought we could use that as a reverse strategy and that has really hit the nail on the head."
Biggest moment of the #WorldCup so far? #KORGER pic.twitter.com/ipuGsOIEHj

— FIFA World Cup (@FIFAWorldCup) June 27, 2018
The holders #GER, are out. #KOR join them heading home, despite big win. pic.twitter.com/Vyyzl7EcHq

— FIFA World Cup (@FIFAWorldCup) June 27, 2018
The @Budweiser #ManoftheMatch for #KORGER is Jo Hyeonwoo! pic.twitter.com/s5voHTumcP

— FIFA World Cup (@FIFAWorldCup) June 27, 2018
🗣 "We know in football that nothing is impossible if you work really hard"@Budweiser #ManoftheMatch Ludwig Augustinsson hails the spirit of #SWE after their stunning win today. pic.twitter.com/hziHglv12D

— FIFA World Cup (@FIFAWorldCup) June 27, 2018
Only one stat matters for #SWE and #MEX, though…

They are both through to the knock-outs!#MEXSWE pic.twitter.com/uyg8DBMdO5

— FIFA World Cup (@FIFAWorldCup) June 27, 2018