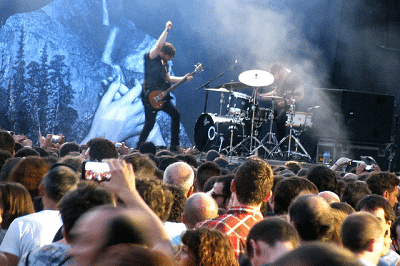 Tickets for Royal Blood's Autumn tour went on sale this morning and many fans were left disappointed after tickets sold out in minutes.
The tour, which includes 13 dates throughout October and November, is probably the last chance to see the band in an intimate setting.
The rockers will play the Academy in Dublin on October 27th. Many fans are already demanding for more dates to be added to the tour after struggling to get their hands on tickets.
To comfort those fans that didn't get tickets, watch Royal Blood give a quick 15 second guide to each of their tracks, from their number 1 selling self-titled album.
The clips are posted on Instagram, featuring the Brighton rock duo, giving snippet explanations of each of their ten songs.
Not only did their album go straight into the number 1 spot but the band also achieved the fastest-selling rock debut in three years.
Royal Blood managed to shift an impressive 66,000 copies over the last week, more than any rock debut. The first-week figures make it the highest-selling rock debut since Noel Gallagher's High Flying Birds' self-titled release in 2011.
Watch some of the funniest explanations below.
Out of the Black.
Figure It Out
You Can Be So Cruel
Blood Hands
Loose Change
Watch all the clips on NME's Instagram page here.