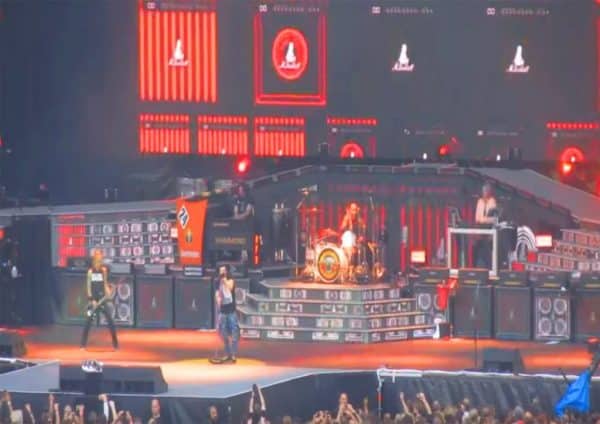 Guns N' Roses debuted their cover of Velvet Revolver's 'Slither' live in Berlin on Sunday. Slash and Duff McKagan played with Scott Weiland in Velvet Revolver, so the performance is a fitting tribute to their fallen bandmate. There's fan footage of the awesome cover available below.
According to Alternative Nation, rumors in the past have stated that Velvet Revolver recorded ten songs with Stone Sour and Slipknot singer Corey Taylor. Rhythm guitarist, Dave Kushner recently revealed in interview that the band recorded eight songs with Taylor but things didn't work out.
Tune in to episode 70 of Fueled By Death Cast with musician @davekushner66 – so many incredible stories you don't want to miss! https://t.co/pj8Tu2UI8B pic.twitter.com/ZFL9EgCZRp

— Death Wish Coffee (@DeathWishCoffee) April 13, 2018
'We were getting more and more resentful, and he was getting more and more segregated, and it just fucking you know, it just built up and built up and we're just like, 'Dude, you can't, you know.' There's a lot to it. There's money issues and then it's like someone renting a limo in fucking … It's like stupid shit.
…[He kept] staying in [different] hotels and it just got really hard, then it got really frustrating, and just the four of us were on one bus and he was on another bus. And we just started talking and just being like, 'Dude, we can't do this. This is too fucking hard.'
To be honest with you, we fired him, and that was it. We fired him, we thought we could replace him. And obviously, we couldn't. We could never find anyone that was on that level or someone that was equally as awesome in a different way that we were like, 'This is the new guy.' We looked, when we tried for like a year and a half.
Dude, we tried, we worked with fucking … we recorded like eight songs with Corey Taylor.'