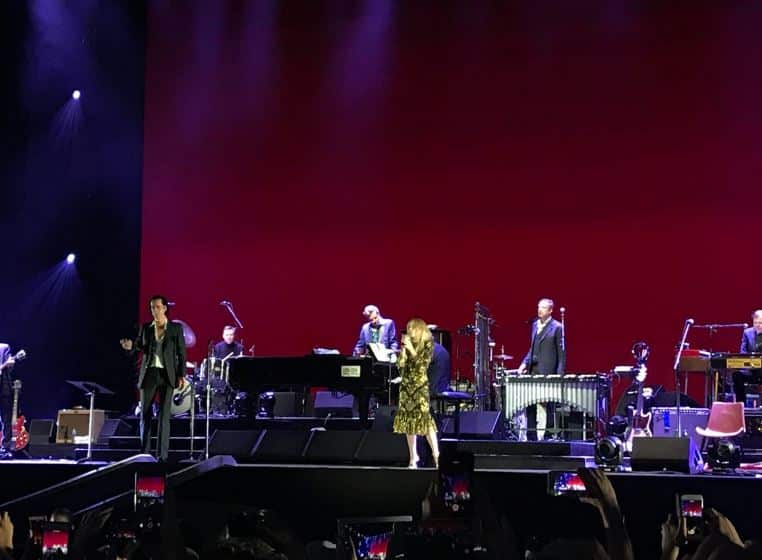 Nick Cave & The Bad Seeds surprised an audience at a London show over the weekend. The doomsayer invited Kylie Minogue on to the stage for a live rendition of 'Where The Wild Roses Grow'.
The track was released in 1995, and the couple have performed it live together before. The last time was when Minogue joined Cave for a show at Koko back in 2013. The Antipodean singer was greeted on stage last night in Victoria Park to a huge crowd reaction. The audience erupting with joy after her introduction.
Footage posted on social media has captured the special ocassion, with fans citing the performance as 'incredible'.
Yup, that really was Nick Cave and a surprise appearance from Ms Kylie Minogue. Not a bad Sunday evenong. pic.twitter.com/2XL1dr0yI9

— Donna Coonan (@DCoonan3) June 3, 2018
Now Prince is dead Nick Cave and the Bad Seeds are the greatest live band alive. Tonight was a masterclass. Here's a massive stage invasion. And Kylie was there too! pic.twitter.com/LKqiGhfu9r

— Shaun Curran (@shaun_curran) June 4, 2018
Nick Cave and Kylie at @allpointseastuk was incredible to see and their chemistry was palpable. pic.twitter.com/UiL5u2MGwc

— Graham Neale (@narrator83) June 3, 2018
Some years later the unlikely pairing re-recorded a sparse rendition of the grisly ballad for Kylie Minogue's LP, The Abbey Road Sessions released on Parlophone. The record sees Minogue revisit a hits from her 25-year career with the help of an orchestra at the iconic London studio. Listen below.
And here's the original video,
Nick Cave and Kylie at @allpointseastuk was incredible to see and their chemistry was palpable. pic.twitter.com/UiL5u2MGwc

— Graham Neale (@narrator83) June 3, 2018
Nick Cave and Kylie at @allpointseastuk was incredible to see and their chemistry was palpable. pic.twitter.com/UiL5u2MGwc

— Graham Neale (@narrator83) June 3, 2018