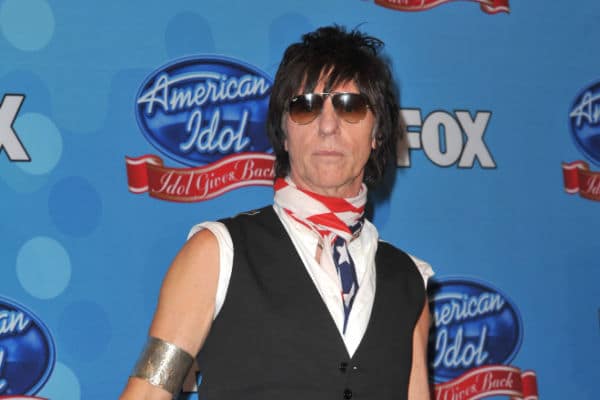 Footage has emerged from Jeff Beck's last ever live performance.
The guitarist died yesterday at the age of 78, after suffering with bacterial meningitis, his representatives confirmed.
"On behalf of his family, it is with deep and profound sadness that we share the news of Jeff Beck's passing. After suddenly contracting bacterial meningitis, he peacefully passed away yesterday", they said.
"His family ask for privacy while they process this tremendous loss". 
Beck's Last Ever Show
Jeff Beck took to the stage for what turned out be his last on November 12 at Reno's Grand Sierra Resort, as part of his US tour alongside Johnny Depp.
Depp also collaborated with Beck on his album '18', which arrived last July.
Alongside Depp, Jeff Beck also performed several covers including Jimi Hendrix 'Little Wing', and Brian Wilson's 'Caroline No'.
Check out some footage of this below.
Along with Depp, Jeff Beck also performed on stage alongside Whitesnake's David Coverdale.
At the end of the show, he received a standing ovation.
Tributes Paid To Jeff Beck
Following his death, tributes have been paid to Jeff Beck, with Ozzy Osbourne and Brian May leading the tributes to the legendary guitarist.
"Gutted, so sad, to hear of Jeff's passing. He was the Guv'nor. He was inimitable, irreplaceable – the absolute pinnacle of guitar playing", Brian May wrote.
"And a damn fine human being. I'm sure I will have a lot to say, but right now …. Just lost for words. Bri. #jeffbeck". 
Jeff Beck also featured on the recenly released Ozzy Osbourne album 'Patient Number 9', and the former Black Sabbath singer paid homage to Beck.
 "I can't express how saddened I am to hear of @JeffBeckMusic's passing", Ozzy wrote. "What a terrible loss for his family, friends & his many fans".
"It was such an honor to have known Jeff & an incredible honor to have had him play on my most recent album, #PatientNumber9. Long live #JeffBeck".