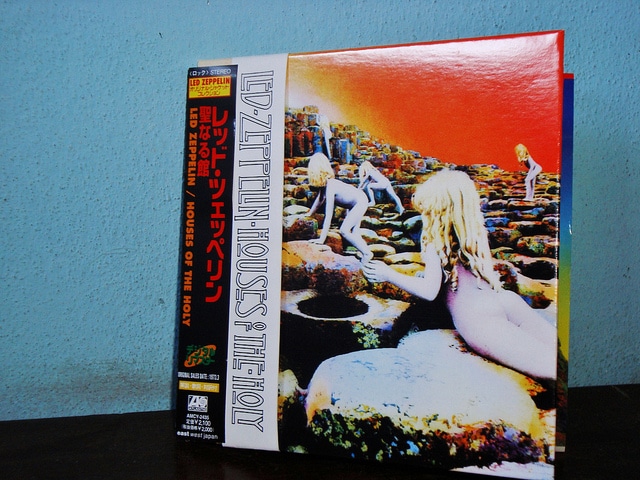 Houses of The Holy is the fifth studio album from Led Zeppelin and was released on the 28th March 1973. It followed on from the band's now iconic album Led Zeppelin IV which spawned the epic rock anthem 'Stairway To Heaven'.
Houses Of The Holy follows the same basic pattern as Led Zeppelin IV,  but the approach is looser and more relaxed. Jimmy Page's riffs rely on ringing, folky hooks as much as they do on thundering blues-rock, giving the album a lighter, more open atmosphere. While the pseudo-reggae of 'D'Yer Mak'er' and the affectionate James Brown send-up 'The Crunge' suggest that the band was searching for material, they actually contribute to the musical diversity of the album.
'The Rain Song' is one of Zep's finest moments, featuring a soaring string arrangement and a gentle, aching melody. 'The Ocean' is just as good, starting with a heavy, funky guitar groove before slamming into an a cappella section and ending with a swinging, doo wop-flavored rave-up. With the exception of the rampaging opening number, 'The Song Remains the Same', the rest of Houses Of The Holy is fairly straightforward, ranging from the foreboding 'No Quarter' and the strutting hard rock of "Dancing Days" to the epic folk/metal fusion 'Over the Hills and Far Away'. Throughout the record, the band's playing is excellent, making the eclecticism of Page and Robert Plant's songwriting sound coherent and natural.
The iconic album cover was actually taken at the Giant's Causeway and features a psychedelic image of naked children climbing the up causeway.
Tracklist:
1. The Song Remains The Same
2.  The Rain Song
3. Over The Hills And Far Away
4. The Crunge
5. Dancing Days
6. D'Yer Maker
7. No Quarter
8. The Ocean
Photo Credit : Alejandro H