Every Friday just after 3:30pm with Pat Courtenay, Michelin-starred chef Derry Clarke shares a top-end recipe that any of us can put together.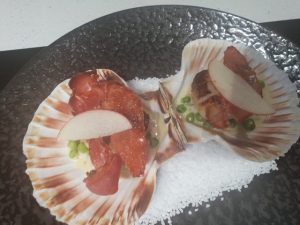 SEARED FRESH KING SCALLOPS WITH BACON, PEAS & CREAM SAUCE
100ml Cider
8 x King Scallops
(2 per person for starter – 4 per person for main course)
Place Scallops on a plate with kitchen towel under them to soak up
Any moisture. You may leave the roe/coral (orange piece.
I removed mine when trimming the scallops
50grm Butter
50ml Vegetable Oil
150 grms Peas – Fresh or Frozen
75ml Cream
1 x Med Onoin diced finely
3 x Slices of Bacon diced for sauce
4 x Slices of Crispy Grilled Bacon for garnish
1 x Small red apple sliced thinly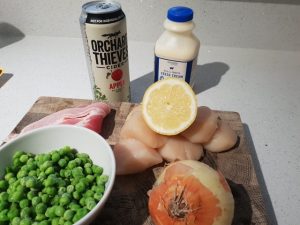 Melt Butter in a small pot and turn up the heat.
Add Bacon, and toss for 30 seconds
Add Onion and toss for 30 seconds and then turn down heat for 2-3 mins.
Season with Black Pepper – NO SALT – as the bacon adds enough salt.
Add Cider and Peas and turn heat to 5 for 3-4 mins.
Add cream and tun down heat and let simmer. Add more cream or Cider if desired.
Heat non-stick pan on high heat and add vegetable oil. Season Scallop with Salt & Pepper. Place each scallop in pan and cook until golden brown on each side – 1.5 to 2 minutes each side.
Place sauce in a bowl. Put Scallops on top and garnish with the crispy bacon and the thinly sliced apple.
CLICK HERE TO DOWNLOAD THE PDF
SPATCHCOCK  BBQ CHICKEN
1 Chicken spatchcocked
4 crushed Garlic Cloves
50ml Olive Oil
Cut Chicken in two down the back of the bird and flatten as per photo. Place Chicken in dish. Add Garlic & olive oil, & cover with cling film. Leave in fridge overnight.
2 tablespoons of tomato ketchup
1 tablespoon maple syrup or brown sugar
75ml orange juice
Add all ingredients to saucepot and put on a low heat until syrupy,  & let cool down.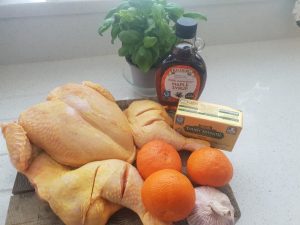 Heat your BBQ and place chicken bone side down on direct heat for 10 mins, move to cooler part of your BBQ indirect heat. Brush occasionally with the orange and ketchup glaze. Cook until cooked through ( when the juices are clear or to 75°Celsius  or higher )
For Garlic Butter mix together:
100g melted butter
2 crushed garlic cloves
1 tablespoon chopped parsley
Salt  & Pepper
Place Chicken in a serving dish and pour over the garlic butter.
Garish with any vegetable – your favourite vegetables, potatoes & salads.  Carrots cooked on a BBQ are also great.
NOTE: The bigger and juicier the Chicken the better the dish i.e. Cornfed as I used or an Organic Chicken.
Chickens that are already 'spatchcocked' are available to buy in most supermarkets.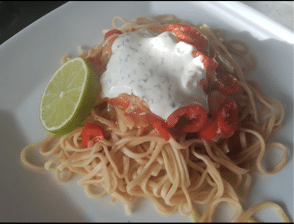 CLICK HERE TO DOWNLOAD THE PDF
TASTY PRAWNS & EGG NOODLES
150grms Peeled Prawns
150grms Egg Noodles
1 table spoon Peeled & sliced Ginger
1 table spoon Deseeded & Chopped Red Chilli
1 x Juice of a full Lime
1 x Juice of a full Lemon
2 x tablespoons Cider Vinegar
2 x tablespoons Sweet Chilli Sauce
2 x tablespoons Soy Sauce
2 x tablespoons Oyster Sauce
50 mls Olive Oil
2 x tablespoons Chopped Coriander
Garnish:
2 x tablespoons Chopped Coriander
2 x tablespoons Crème Fraice (or whipped Cream or Natural Yoghurt)
1 x wedge of Lemon OR Lime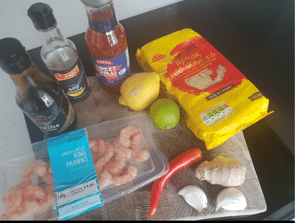 METHOD:
Put a large pot of water on the hob and bring to the boil. Cook the noodles as per the instructions on the packet. (Rice could be used instead of noodles).
Heat pan on hob – high heat , with olive oil. Add chilli, garlic & ginger and toss for 1-2 minutes. Ad prawns – if cooked toss for 1-2 minutes until heated through. If uncooked prawns toss for 3 minutes. Then add all other ingredients. Season with Salt & Pepper.
To garnish mix the 2 x tablespoons of chopped coriander with crème fraiche (or cream or natural yoghurt)
To serve:
Serve with Noodles on a plate with prawns on top and lemon/lime wedge as per photo. A spoon or two of the coriander cream may be placed on top or left on the table for you and your guests to help themselves.
CLICK HERE TO DOWNLOAD THE PDF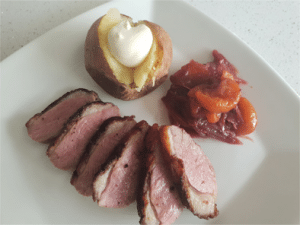 CRISPY DUCK BREAST WITH RED ONION & ORANGE CHUTNEY 
4× 170g Duck Breast.
100ml Orange juice.
2 Red Onions, peeled and thinly sliced.
2 easy peel Oranges, Zest and Segment.
2× teaspoons Brown sugar.
2× tablespoons Cranberry Sauce.
50g Butter
2 Tablespoons Red wine Vinegar.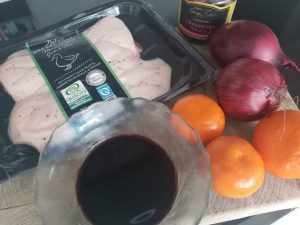 Melt butter in a saucepan, add Red onion, and gently cook for 10 mins. Add Orange juice, vinegar, zest, sugar, orange segments and Cranberry sauce, simmer for 5 mins. Season with salt and pepper.
With a sharp knife cut the fat ( crisscross) on the duck breasts, season with salt on fat side. Place duck breasts fat side down on a COLD pan. Turn on heat to medium high, leave for 3/4 mins, pour off excess fat from pan, reduce heat to medium cook for further 5 mins, turn and cook for 4/5 more mins, leave to rest till you carve.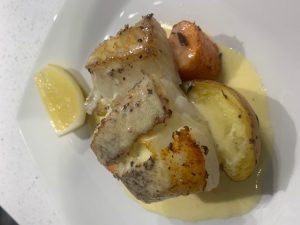 SEARED COD FILET. ROASTED CARROT & POTATO WITH LEMON BUTTER SAUCE 
4  × 130 g  Cod Filets
4  × Medium sized Potatos washed and cut in half.
4  x Carrots peeled and cut in chunks.
100ml Cream
100g Butter.
Juice of 1 Lemon.
1  x Lemon cut into wedges.
40ml Vegetable Oil
Salt & Pepper to season
(Fresh or Dried Thyme – optional)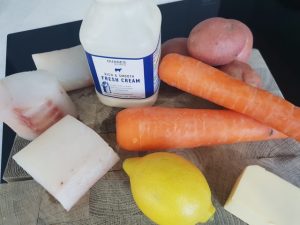 Place Potato and Carrots in a roasting tray, add 40 ml vegetable Oil, season with salt and pepper, toss.( you could add a teaspoon of fresh or dried Thyme if you like).
Place all on the tray into a  preheated oven @ 180° electric or gas mark 4/5 for 30 to 40 mins, toss ingredients occasionally during cooking.
Heat a frying pan, add a little vegetable oil, season Cod with salt and pepper, cook for 3/4 mins on each side, remove fish from pan, add butter, cream and lemon juice, simmer till sauce thickens.
Place vegetable on plates, put Cod on top and spoon over sauce. Garish with lemon wedge.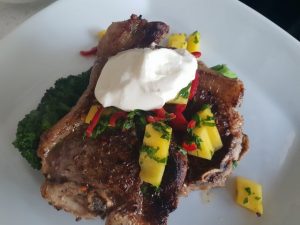 MOROCAAN  SPICED  LAMB  CHOPS WITH MANGO SALSA, BROCOLLI, CRÈME FAICHE
8 x    Lamb Chops 75/80 g each
1 x    Mango Peeled & Diced
1 x    Red Chilli de-seeded and chopped finely
500g Fresh Brocolli
Juice of 1 Lime
2 x    Spoons of Morocaan Spices
4 x    Tablespoons Crème Fraiche
1 x    Tablespoon Chopped Corriander or Parsley.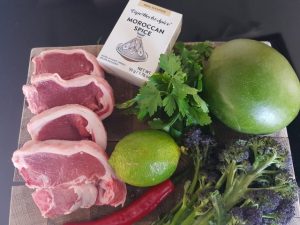 Method:
Combine Mango, Chillies, Lime Juice and Parsley or Corriander.  Season with Salt & Pepper
Heat a frying pan. And add a little vegetable oil. Sprinkle the Lamb Chops with the spice mix and season with salt & pepper. Cook on each side for about 3 minutes on fairly high heat.
Add Brocolli to salted boiling water and cook until tender for 3-4 minutes. Strain and add a knob of butter.
Place Brocolli on a serving plate. Add lamb. Spoon over the Mango Salsa and then the Crème Fraiche.
Garnish with a wedge of Lime.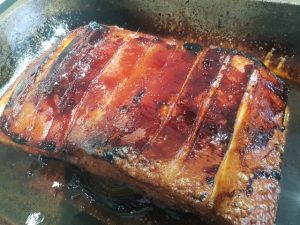 GLAZED BELLY OF PORK
1kg Pork Belly
150ml Orange Juice
75ml Cider Wine Vinegar
4 table spoons – Honey or Maple Syrup
1 Chilli
2 Onions
4 Cloves of Garlic
2 table spoons of Brown Sugar
2 Thick Orange Slices
Salt & Pepper to season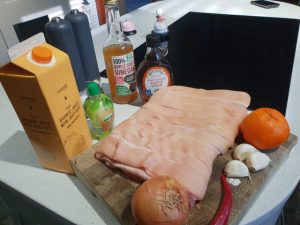 Score long cuts in the pork belly skin/fat side.
Season with Salt & Pepper on the flesh side.
Slice onions with skins on, crush garlic, chop chilli, and thick orange slices in the roasting tray.
Add juice, honey (maple syrup), cider wine vinegar and brown sugar.
Place Pork on top with skin/fat side up.
Cover with tin foil.
Place in oven at 140 degrees  (Gas Mark 1-2) for 1.5 hours
Remove. Turn oven up to 200 degrees  (Gas Mark 5-6) and while the oven is hotting up:
Strain liquid into a sauce pot and simmer until slightly syrupy.  Place Pork back into the oven for a further 30 minutes  or until golden brown and crispy. 15 minutes before the end brush Pork with some of the syrup.
When finished let it rest for 10 minutes before cutting and serve with  your favourite potatoes and vegetables
The syrup is lovely to pour over the meat on the plate too.