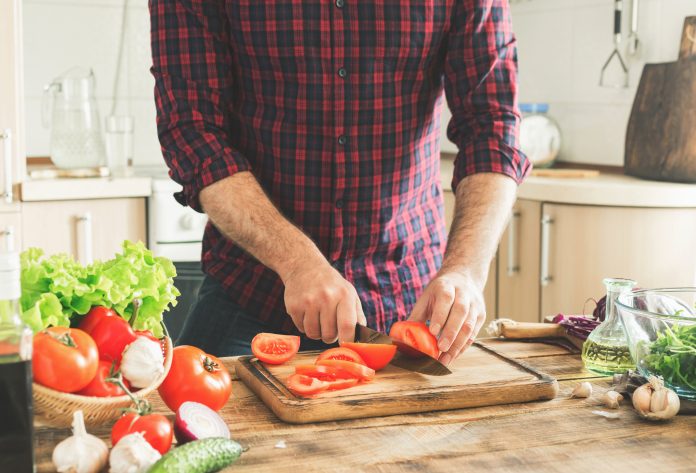 Every Friday just after 3:30pm with Pat Courtenay, Michelin-starred chef Derry Clarke shares a top-end recipe that any of us can put together…
CHICKEN ESCALOPES WITH A HERB AND PARMESAN CRUMB AND ANCHOVY AND LEMON DRESSING
4 chicken breasts (skinned and flattened)
Vegetable oil
4 eggs (for frying)
Ingredients for the Crumb
1 egg (beaten)
50ml milk
100g breadcrumbs
1 cup grated parmesan
1 tablespoon chopped parsley
120g white flour
Ingredients for the anchovy dressing and lemon dressing
100g anchovies
2 lemons (peeled and cut into segments)
2 tablespoons chopped chives
Method for the crumb
Mix the egg and milk together in a shallow bowl.
In a separate shallow bowl, mix the breadcrumbs, parmesan and parsley.
Season the chicken breast and lightly coat in the flour.
Dip the chicken into the egg mixture, then coat with the crumb mixture.
To cook the chicken
Heat some vegetable oil in a frying pan and cook the chicken on both sides until golden brown. (4-5 minutes each side)
Method for the anchovy and lemon dressing
Mix the anchovies, lemon segments and chives.
DEEP-FRIED DUBLIN BAY PRAWNS IN KETAIFI PASTRY WITH LEMON MAYONNAISE, CHILLI JAM & CUCUMBER RELISH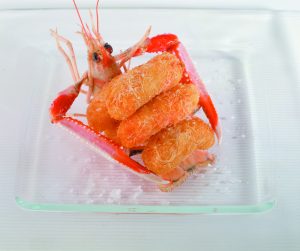 Deep-fried Dublin Bay prawns in ketaifi pastry
20 Dublin Bay prawns,
shelled & deveined
100 g plain flour, sifted
2 eggs, beaten
1 packet of ketaifi pastry
Preheat a deep-fat fryer to 160°C/325°F. Dip the prawns in the flour and then the beaten egg. Tear theketaifi pastry into short lengths, about 10 cm. Roll the prawns in the pastry and deep fry until crisp and golden, about 3–4 minutes
Lemon mayonnaise
4 tablespoons mayonnaise
zest & juice of ½ lemon
Combine the ingredients together in a bowl. Chill
Chilli jam
150 ml red wine vinegar
150 ml red wine
100 g sugar
1 cm piece of root ginger,
peeled & grated
8 red chillies, deseeded & finely diced
Place all the ingredients except the chillies in a saucepan. Cook over gentle heat for 20 minutes. Remove from the heat, add the chillies and allow to cool.
Cucumber relish
50 g sugar
1 teaspoon fennel seeds
150 ml white wine vinegar
1 cm piece of root ginger, peeled & grated
½ cucumber, deseeded & cut into fine strips
2 tablespoons dill, chopped
Simmer the sugar, fennel seeds, vinegar and ginger in a saucepan for 20 minutes. When the liquid is cool, add the cucumber and dill.
To serve
Place five prawns in ketaifi pastry on each plate and place a spoonful of lemon mayonnaise, chilli jam and cucumber relish around the prawns.
CLICK HERE TO DOWNLOAD THE PDF
SEARED DOVER SOLE WITH HAZELNUT DRESSING
Ingredients;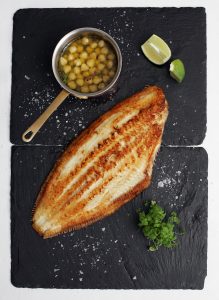 For the Dover Sole;
4 X 600/800g Sole
4 tablespoons vegetable oil
150g sieved flour
50g butter
For the hazelnut dressing;
1 tablespoon white wine vinegar
Pinch castor sugar
4 tablespoons extra virgin olive oil
½ teaspoon Dijon mustard
3 tbspoon chopped roasted & skinned hazelnuts
Salt & freshly ground black pepper
Method;
For the Sole;
Heat a large pan over a high heat
(you can cook the Sole in batches if the pan is not big enough)
Add the oil & the butter, taking care not to burn the butter
Toss the Sole in the flour on both sides & place on the pan
Turn the heat down to medium & cook for 4/5 minutes & turn when golden brown
Cook for a further 3/5 minutes
Remove
For the hazelnut dressing
Place the vinegar in a screw-topped jar and add the sugar, and a good pinch of salt, shake until the salt has dissolved
Add the oil to the jar with the mustard & shake again until you have formed a thick emulsion
Season to taste & stir in the hazelnuts
Chill until required
CLICK HERE TO DOWNLOAD THE PDF
WHOLE CHICKEN, SPICY SWEET & SOUR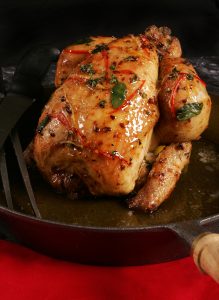 Ingredients
1 whole chicken (Not too big 3 or 4 lbs)
Paste ingredients:
2 Red Chillies (Chopped & Deseeded)
2 Tablespoons curry powder or any spice mix
50g chopped ginger
6 crushed cloves of garlic
2 Tablespoons Brown Sugar
3 Tablespoons Olive Oil
2 Tablespoon chopped thyme
1Tablespoon chopped sage
1 tablespoon Sea Salt
2 tablespoons white wine vinegar
METHOD:
Mix all ingredients except oil & vinegar
Cover chicken with olive oil & vinegar & sprinkle all other ingredients over chicken
Season with some freshly ground black
Roast the chicken in the oven at 190oC for 2 hours (25/30 mins per lb.)
Continue to baste throughout cooking
Once cooked leave to rest for 10 minutes before carving
Serve with Roast Potatoes and crisp Spring Greens
CLICK HERE TO DOWNLOAD THE PDF
SPICED MONKFISH, CARROT & ORANGE PURÉE, SHREDDED CARROT & GINGER SALAD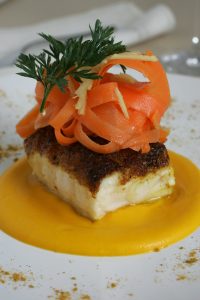 Ingredients
Monkfish
4 x 160g monkfish portions (trimmed)
1 tablespoon vegetable oil
Sea salt & cracked black pepper
For the spice mix
1 teaspoon cumin seeds (crushed)
1 teaspoon coriander seeds (crushed)
Pinch of 5 spice powder
¼ red chilli (deseeded & diced)
1 cm piece of root ginger (peeled & finely diced)
1 clove of garlic (crushed)
For the Carrot & Orange Purée
4 large carrots (peeled & chopped)
2 shallot (peeled & diced)
1 clove of garlic (peeled & crushed)
2 oranges (juiced)
2 tablespoons olive oil
Salt & freshly ground white pepper
For the Carrot & Ginger Salad
2 large carrots peeled & grated
1 X 5cm piece of ginger (peeled & grated)
1 tablespoon olive oil
1 tablespoon chopped fresh chervil
Salt & freshly ground white pepper
Method
For the spice mix
Mix all ingredients together in a large bowl
For the spiced monkfish
Toss the monkfish on all sides in the spice mix
On a hot pan, add the vegetable oil
Brown the fish on all sides
Finish in the oven for ¾ minutes
Remove & rest for a few minutes before serving
For the carrot & orange purée
In a heavy sauce pot, add the olive oil & gently cook the shallots & garlic for 2 minutes
Add the carrots, season & cook for 3 minutes
Add the orange juice
Cook very slowly for 20 minutes or until very tender
Pulverise the mixture in a food processor
For the carrot & ginger salad
Toss the carrots, ginger& chervil in a large bowl
Season & drizzle with olive oil
SEARED JOHN DORY WITH CRUSHED NEW POTATOES AND OLIVE TAPENADE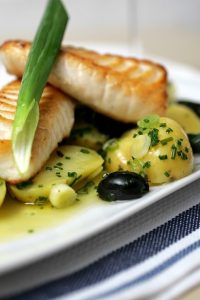 Ingredients:
4 large John Dory Fillets
Vegetable oil
Juice of ½ lemon
For the Potatoes:
600g new potatoes
150g pitted black olives
4 shallots
2 tbsp chopped chives
2 spring onions
200ml olive oil
1tsbp sherry
For the Tapenade:
300g pitted black olives
2 tbsp grated parmesan cheese
2 tbsp olive oil
For the fish:
Add a little vegetable oil to ta non stick frying pan. Cook the fish, skin side down first, for 3 minutes on each side. Season with salt and pepper and lemon juice.
For the potatoes:
Cook the potatoes in lightly boiling water until tender. Strain and lightly crush with a fork. Add all thr other ingredients and season.
For the Tapenade:
Liquidise all the ingredients together until smooth.
To serve:
Place the potatoes on warmed plates and lay the fish on top, spoon the tapenade on top of the fish.
Tips:
You can grill or poach the fish
Green olives are also fine for tapenade
Always use a good quality olive oil.
CLICK HERE TO DOWNLOAD THE PDF
SUMMER BERRY PUDDING
1 punnet blackberry
1 punnet raspberry
1 punnet of cherry / strawberry
1 punnet blueberry
4 tablespoons raspberry jam
1 tub mascarpone cheese
4 tablespoons sugar
4 tablespoons water
1 teaspoon ground cinnamon
1 piece of star anise
1 teaspoon vanilla essence
Zest of 1 lemon
10 slices of stale white bread (crust removed)
Method
• Heat a sauce pot, add sugar, jam, and water.
• Reduce slowly for a few mins.
• Add all berries, cinnamon, star anise and vanilla, mix gently for 1 min.
• Remove from heat and leave to cool.
• Remove star anise.
• Use a baking tin (or bowl / individual ramekin) oil the bottom and sides and line with clingfilm (leave an overlap on the edges).
• Place sliced bread on bottom and sides.
• Add 1/3 of the berry mix, place mascarpone in the centre and add remaining mix.
• Place sliced bread on top and cover with the overlapped clingfilm.
• Place in fridge overnight and turn out onto plate.
CLICK HERE TO DOWNLOAD THE PDF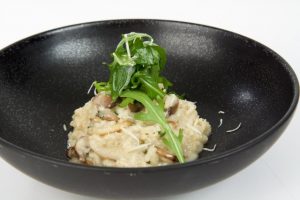 MUSHROOM RISOTTO
250grms of Mushrooms (cleaned & Chopped)
2 Shallots (peeled & diced)
1 teaspoon of chopped thyme
1 clove of garlic (peeled & crushed)
300grms Arborio Rice
1 ltr Chicken or Vegetable Stock (Warm)
2 tablespoons Olive oil
Sea Salt
Freshly ground Black Pepper
2 tablespoons Crème Fraiche
2 tablespoons grated Parmesan
1 tablespoon Tarragon (chopped)
Heat the olive in a heavy saucepan; add shallots, garlic & thyme and cook for two minutes over a low heat.
Add the uncooked Arborio Rice and stir until it is coated with the olive oil. Add the warm stock ladle by ladle, allowing each to absorb before adding the next. Continue until the rice has absorbed all the stock (16/18 minute). The rice should be sofe with a slight bite.
Saute the mushrooms in olive oil in a separate pan. Season the sauted mushrooms and add to the Risotto with the Crème fraiche & Tarragon and Parmesan.
Serves 4. Cooks in 20 minutes
CLICK HERE TO DOWNLOAD THE PDF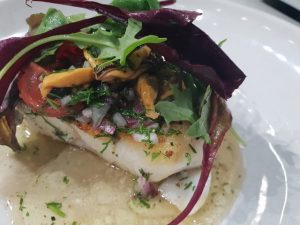 SEARED COD FILLETS MUSSEL & TOMATO DRESSING
2 x Fillets of Cod Skinned 135grms each
140 grms Cooked Mussels meat (shelled)
½ Fresh Lemon
50 grams Butter
Salt & Black Pepper to season
Dressing:
50 mls Olive Oil
50 mls Burren Blood Orange & Cardamon Balsamic Oil
½ x Small Red Onion peeled, sliced and diced
6 x Cherry Tomatoes quartered
½ Fresh Lemon
1 x tablespoon chopped Dill
Salt & Black Pepper to season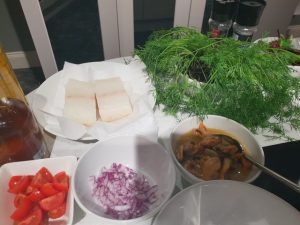 Add balsamic vinegar & olive oil together in a medium sized bowl and whisk until blended. Then add red onion, cherry tomatoes, freshly squeezed lemon, chopped dill with salt and pepper.
Heat frying pan on a high heat with cooking oil. Season Cod fillets with Salt & Pepper. Place on pan – 3mins each side.
Add butter to pan with ½ lemon juice and spoon over fish for 20 seconds. Spoon over the seared cod and add salad.
CLICK HERE TO DOWNLOAD THE PDF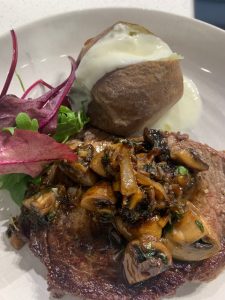 DERRY CLARKE'S BEEF RIB EYE WITH MUSHROOMS & GARLIC FOR TWO PEOPLE (DOUBLE FOR 4)
2 x Rib Eye Steaks 225-250grms.
140 grms Small Button Mushrooms
1 x Small Onion Peeled & diced
2 x Cloves of Garlic peeled and sliced thinly
75gms Butter
100mls Balsmic Vinegar
Half x Tablespoon Chopped Thyme
Half x Tablespoon Chopped Parsley
50mls Olive Oil
Place frying pan on a high heat. Add 25mls olive oil. Season Steaks with Salt & Pepper. Cook both sides for two minutes seasoning the other side when you turn the steak for 2 minutes each side. Remove from pan and keep warm in the oven at 65 degrees. Wipe the pan and return to high heat.
Add remainder of olive oil. Add onion and toss for 30 seconds, add mushrooms, add butter and toss for 2 minutes. Add garlic and toss for 1 minutes and add balsamic, thyme and parsley. Taste and if required add more butter or balsamic if required.
Put Steaks on each plate and divide the garlic mushrooms between them. I cooked theses with baked potatoes, and fresh salad leaves.
Sallyanne's Salad Dressing:
100 mls Olive Oil
50 mls Balsamic Oil
50 mls Maple Syrup
Half the juice of a fresh Lemom
Half the juice of a fresh Lime
Salt & Black Pepper to your liking
CLICK HERE TO DOWNLOAD THE PDF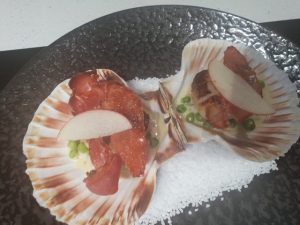 SEARED FRESH KING SCALLOPS WITH BACON, PEAS & CREAM SAUCE
100ml Cider
8 x King Scallops
(2 per person for starter – 4 per person for main course)
Place Scallops on a plate with kitchen towel under them to soak up
Any moisture. You may leave the roe/coral (orange piece.
I removed mine when trimming the scallops
50grm Butter
50ml Vegetable Oil
150 grms Peas – Fresh or Frozen
75ml Cream
1 x Med Onoin diced finely
3 x Slices of Bacon diced for sauce
4 x Slices of Crispy Grilled Bacon for garnish
1 x Small red apple sliced thinly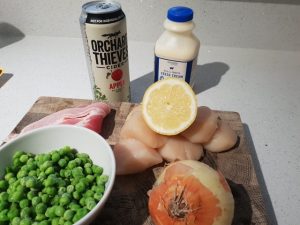 Melt Butter in a small pot and turn up the heat.
Add Bacon, and toss for 30 seconds
Add Onion and toss for 30 seconds and then turn down heat for 2-3 mins.
Season with Black Pepper – NO SALT – as the bacon adds enough salt.
Add Cider and Peas and turn heat to 5 for 3-4 mins.
Add cream and tun down heat and let simmer. Add more cream or Cider if desired.
Heat non-stick pan on high heat and add vegetable oil. Season Scallop with Salt & Pepper. Place each scallop in pan and cook until golden brown on each side – 1.5 to 2 minutes each side.
Place sauce in a bowl. Put Scallops on top and garnish with the crispy bacon and the thinly sliced apple.
CLICK HERE TO DOWNLOAD THE PDF
SPATCHCOCK BBQ CHICKEN
1 Chicken spatchcocked
4 crushed Garlic Cloves
50ml Olive Oil
Cut Chicken in two down the back of the bird and flatten as per photo. Place Chicken in dish. Add Garlic & olive oil, & cover with cling film. Leave in fridge overnight.
2 tablespoons of tomato ketchup
1 tablespoon maple syrup or brown sugar
75ml orange juice
Add all ingredients to saucepot and put on a low heat until syrupy, & let cool down.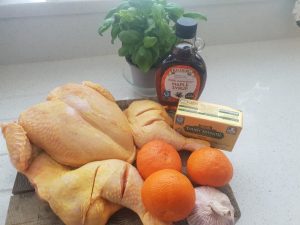 Heat your BBQ and place chicken bone side down on direct heat for 10 mins, move to cooler part of your BBQ indirect heat. Brush occasionally with the orange and ketchup glaze. Cook until cooked through ( when the juices are clear or to 75°Celsius or higher )
For Garlic Butter mix together:
100g melted butter
2 crushed garlic cloves
1 tablespoon chopped parsley
Salt & Pepper
Place Chicken in a serving dish and pour over the garlic butter.
Garish with any vegetable – your favourite vegetables, potatoes & salads. Carrots cooked on a BBQ are also great.
NOTE: The bigger and juicier the Chicken the better the dish i.e. Cornfed as I used or an Organic Chicken.
Chickens that are already 'spatchcocked' are available to buy in most supermarkets.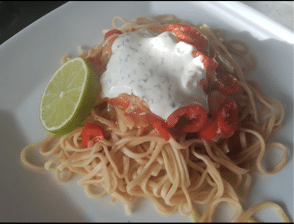 CLICK HERE TO DOWNLOAD THE PDF
TASTY PRAWNS & EGG NOODLES
150grms Peeled Prawns
150grms Egg Noodles
1 table spoon Peeled & sliced Ginger
1 table spoon Deseeded & Chopped Red Chilli
1 x Juice of a full Lime
1 x Juice of a full Lemon
2 x tablespoons Cider Vinegar
2 x tablespoons Sweet Chilli Sauce
2 x tablespoons Soy Sauce
2 x tablespoons Oyster Sauce
50 mls Olive Oil
2 x tablespoons Chopped Coriander
Garnish:
2 x tablespoons Chopped Coriander
2 x tablespoons Crème Fraice (or whipped Cream or Natural Yoghurt)
1 x wedge of Lemon OR Lime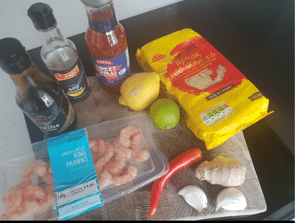 METHOD:
Put a large pot of water on the hob and bring to the boil. Cook the noodles as per the instructions on the packet. (Rice could be used instead of noodles).
Heat pan on hob – high heat , with olive oil. Add chilli, garlic & ginger and toss for 1-2 minutes. Ad prawns – if cooked toss for 1-2 minutes until heated through. If uncooked prawns toss for 3 minutes. Then add all other ingredients. Season with Salt & Pepper.
To garnish mix the 2 x tablespoons of chopped coriander with crème fraiche (or cream or natural yoghurt)
To serve:
Serve with Noodles on a plate with prawns on top and lemon/lime wedge as per photo. A spoon or two of the coriander cream may be placed on top or left on the table for you and your guests to help themselves.
CLICK HERE TO DOWNLOAD THE PDF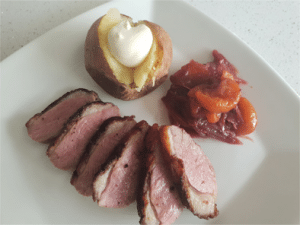 CRISPY DUCK BREAST WITH RED ONION & ORANGE CHUTNEY
4× 170g Duck Breast.
100ml Orange juice.
2 Red Onions, peeled and thinly sliced.
2 easy peel Oranges, Zest and Segment.
2× teaspoons Brown sugar.
2× tablespoons Cranberry Sauce.
50g Butter
2 Tablespoons Red wine Vinegar.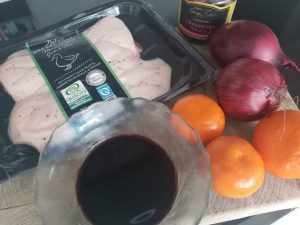 Melt butter in a saucepan, add Red onion, and gently cook for 10 mins. Add Orange juice, vinegar, zest, sugar, orange segments and Cranberry sauce, simmer for 5 mins. Season with salt and pepper.
With a sharp knife cut the fat ( crisscross) on the duck breasts, season with salt on fat side. Place duck breasts fat side down on a COLD pan. Turn on heat to medium high, leave for 3/4 mins, pour off excess fat from pan, reduce heat to medium cook for further 5 mins, turn and cook for 4/5 more mins, leave to rest till you carve.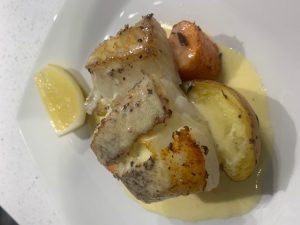 SEARED COD FILET. ROASTED CARROT & POTATO WITH LEMON BUTTER SAUCE
4 × 130 g Cod Filets
4 × Medium sized Potatos washed and cut in half.
4 x Carrots peeled and cut in chunks.
100ml Cream
100g Butter.
Juice of 1 Lemon.
1 x Lemon cut into wedges.
40ml Vegetable Oil
Salt & Pepper to season
(Fresh or Dried Thyme – optional)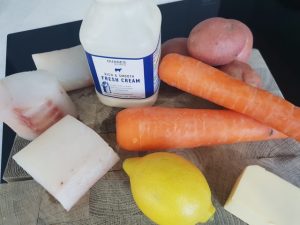 Place Potato and Carrots in a roasting tray, add 40 ml vegetable Oil, season with salt and pepper, toss.( you could add a teaspoon of fresh or dried Thyme if you like).
Place all on the tray into a preheated oven @ 180° electric or gas mark 4/5 for 30 to 40 mins, toss ingredients occasionally during cooking.
Heat a frying pan, add a little vegetable oil, season Cod with salt and pepper, cook for 3/4 mins on each side, remove fish from pan, add butter, cream and lemon juice, simmer till sauce thickens.
Place vegetable on plates, put Cod on top and spoon over sauce. Garish with lemon wedge.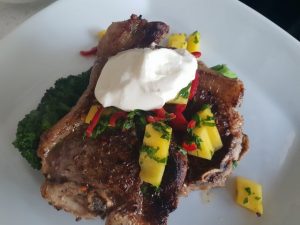 MOROCAAN SPICED LAMB CHOPS WITH MANGO SALSA, BROCOLLI, CRÈME FAICHE
8 x Lamb Chops 75/80 g each
1 x Mango Peeled & Diced
1 x Red Chilli de-seeded and chopped finely
500g Fresh Brocolli
Juice of 1 Lime
2 x Spoons of Morocaan Spices
4 x Tablespoons Crème Fraiche
1 x Tablespoon Chopped Corriander or Parsley.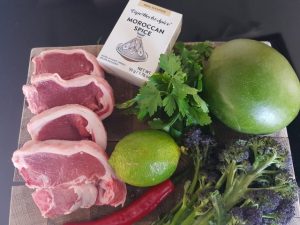 Method:
Combine Mango, Chillies, Lime Juice and Parsley or Corriander. Season with Salt & Pepper
Heat a frying pan. And add a little vegetable oil. Sprinkle the Lamb Chops with the spice mix and season with salt & pepper. Cook on each side for about 3 minutes on fairly high heat.
Add Brocolli to salted boiling water and cook until tender for 3-4 minutes. Strain and add a knob of butter.
Place Brocolli on a serving plate. Add lamb. Spoon over the Mango Salsa and then the Crème Fraiche.
Garnish with a wedge of Lime.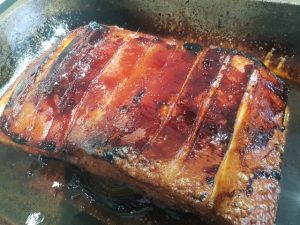 GLAZED BELLY OF PORK
1kg Pork Belly
150ml Orange Juice
75ml Cider Wine Vinegar
4 table spoons – Honey or Maple Syrup
1 Chilli
2 Onions
4 Cloves of Garlic
2 table spoons of Brown Sugar
2 Thick Orange Slices
Salt & Pepper to season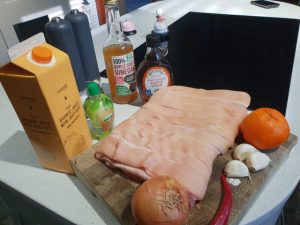 Score long cuts in the pork belly skin/fat side.
Season with Salt & Pepper on the flesh side.
Slice onions with skins on, crush garlic, chop chilli, and thick orange slices in the roasting tray.
Add juice, honey (maple syrup), cider wine vinegar and brown sugar.
Place Pork on top with skin/fat side up.
Cover with tin foil.
Place in oven at 140 degrees (Gas Mark 1-2) for 1.5 hours
Remove. Turn oven up to 200 degrees (Gas Mark 5-6) and while the oven is hotting up:
Strain liquid into a sauce pot and simmer until slightly syrupy. Place Pork back into the oven for a further 30 minutes or until golden brown and crispy. 15 minutes before the end brush Pork with some of the syrup.
When finished let it rest for 10 minutes before cutting and serve with your favourite potatoes and vegetables
The syrup is lovely to pour over the meat on the plate too.