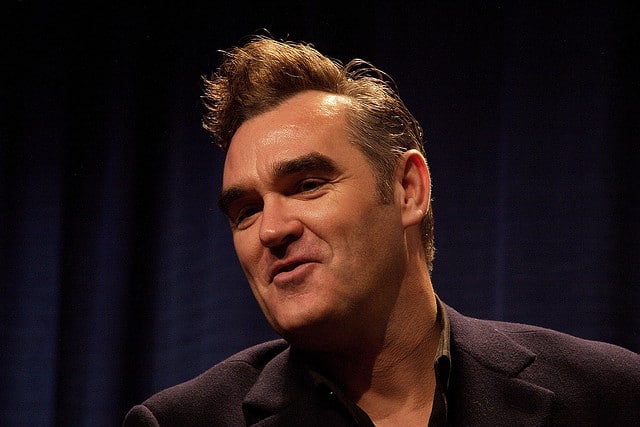 This feud between Morrissey and his former record label just keeps rumbling on.
The 55 year-old musician has taken the passive-aggressive approach this time, getting his band to appear on stage wearing t-shirts that are not so friendly.
Over the past few months, it has been a roller-coaster of drama for the Mancunian frontman.
The singer has been publicly fighting with his label Harvest Records. He criticised the company for not funding his music videos adequately and for not promoting his latest record World Peace Is None of Your Business.
Moz claimed he possessed an email from Steve Barnett, head of Capitol-Harvest Records, proving he had been fired. Posting on fan site true-to-you.net, he wrote, "Morrissey is once again in search of a record label."
Then his album World Peace Is None of Your Business was removed from iTunes, Spotify and on Amazon. Not to mention the death threat allegations made by his former bodyguard.
At least now Moz is taking the high road, well not exactly. At a concert in Lisbon, Morrissey's entire band wore t-shirts with the slogan "F**K HARVEST".
Last month, Morrissey announced a show at Dublin's 3Arena for December 1st. It has been three years since Morrissey last played in Ireland, the singer will be performing tracks from his World Peace Is None of Your Business album.
Moz will be supported by an English singer-songwriter and guitarist named Anna Calvi. She has just been nominated for the second time for a Mercury Music Prize.
Tickets for Morrissey at the 3Arena are still available from €59.50.