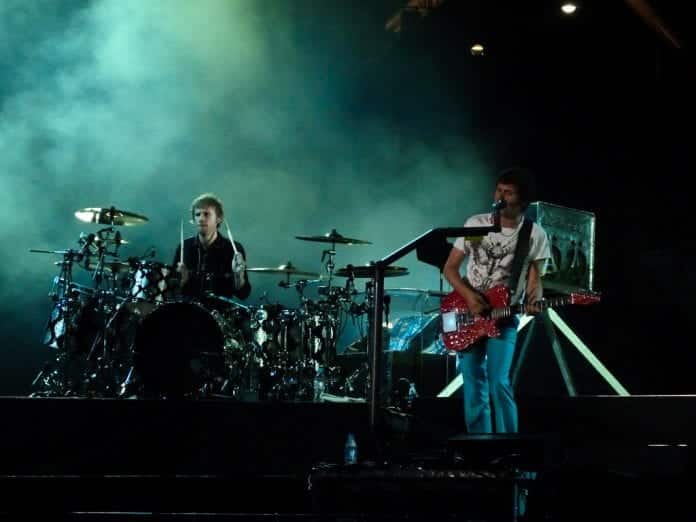 English rockers Muse have said that it could be a long time before they release anything like an album. The band have said that the music industry is at fault for the way people listen to music now.
2015 saw the last Muse album, 'Drones'. Front-man Bellamy hinted that the band could be turning towards a more acoustic and stripped-back direction for their next album.
"I feel like I say it every time with each album but I feel like it might be time to actually do something a bit more stripped down," he said.
Muse have said that they're not focusing on producing a full album at all at the moment. Which isn't much of a surprise, given that they've released a string of stand-alone singles.
"I think the industry has changed too much since we started, certainly since we put our first record out. But even in the last five or six years, streaming has become the way that most people seem to listen to music these days and I think that's affected the way people listen to music," bassist Chris Wolstenholme explained to  Music Feeds.
"People tend not to consume themselves in entire albums like they did when I was younger. It seems to be that the whole industry and the platforms for listening to music are catered around people listening to individual songs and creating their own playlists and things like that."
He also said that there's "less pressure" in releasing the "odd single here or there".
"Sometimes as a band — even in times when you're off — you don't necessarily feel like you want to make an entire album, but sometimes it's quite nice to get together as a band for a bit of fun and if anything comes of it you think well, "Well why not release it as a standalone single?'" he added.
"I know at some point we will do another album but I think it's a nice thing to do in the meantime so the fans feel like they're still getting something; we haven't completely disappeared off the face of the planet."
Photo Credit:Emilio Küffer