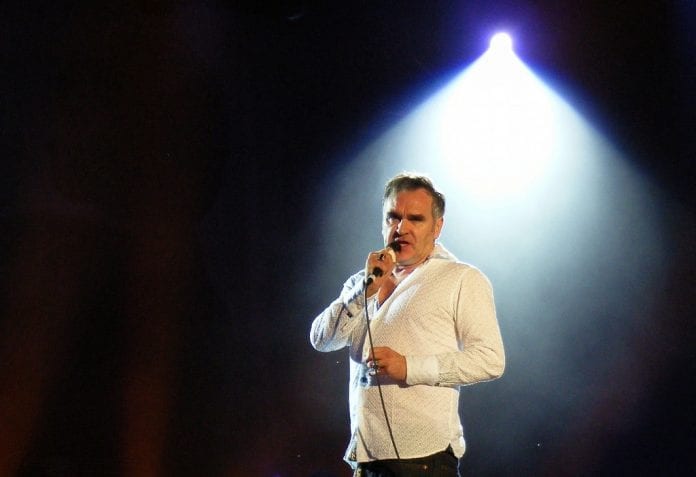 Producer Orian Williams has revealed that the forth coming Morrissey biopic he has been working on for some time has been given a new title. In a recent interview with SiriusXM Williams (Control – the Ian Curtis biopic, Shadow of the Vampire and Big Sur) divulged the name change. The film was to be called 'Steven' – referring to the singer's name- but William's has now confirmed the biopic will be entitled 'England is Mine', in reference to a lyric from the Smiths song 'Still Ill'.
Highly influential, Morrissey is widely lauded as being a key figure in the emergence of indie rock and Britpop. Acclaimed as one of the greatest lyricists in British history; his lyrics have even become the subject of academic study. He has also courted controversy with his forthright opinions and recently caused controversy among many of his fans when he hailed the Brexit result as 'magnificent' – and called Nigel Farage a 'liberal educator'. Former bandmate Johnny Marr said that this was an obstacle in the way of a reunion of The Smiths. Marr agreed that they 'probably don't have much ideologically in common any more'.
"I always forget about that," he said. "That's just stuff that I hear second hand. If it is the case that he's pro-Farage, then there would be a slight drawback in that I think, as anyone can imagine."
The new film explores Morrissey's early upbringing and life before he joined The Smiths. A portrait of Steven Patrick Morrissey and his early life in 1970's Manchester before he went on to become lead singer of seminal 80's and The Smiths and (now) long established solo artist. It stars actor Jack Lowden in the title role (who starred in the BBC adaptation of War & Peace) and Jessica Findlay Brown, of Downton Abbey's fame has also been cast as his friend, artist Linder Sterlin.
Born Steven Patrick Morrissey, on 22 may 1959 at Park Hospital Davyhulme Lancashire, his parent Elizabeth and Patrick Dwyer – were working-class Irish migrants. They had emigrated to Manchester from Dublin with his only sibling, elder sister Jacqueline, a year prior to his birth. They had given him the forename of Steven after the American actor Steve Cochran. As a child he developed a love of literature and pop music. Involved in Manchester's punk rock scene during the late 1970s, he fronted The Nosebleeds, with little success. With Johnny Marr he established The Smiths in 1982, and they soon gained national recognition for their self-titled debut album.
Producer, Orian Williams also confirmed that the film will end with Morrissey's meeting of Johnny Marr, his song writing partner in The Smiths. The film will largely explore the front man's youth and his "triumph over an alienated childhood to become the cult star he is today".
The film, which has not been authorised by the former Smiths front man, doesn't have a release date as yet, but according to sources it's currently in post-production.
Listen to the interview below.
Orian Williams Producer for the upcoming Morrissey Biopic tells Feedback the New title of the film by SiriusXM Entertainment
Picture Credit: Man Alive!