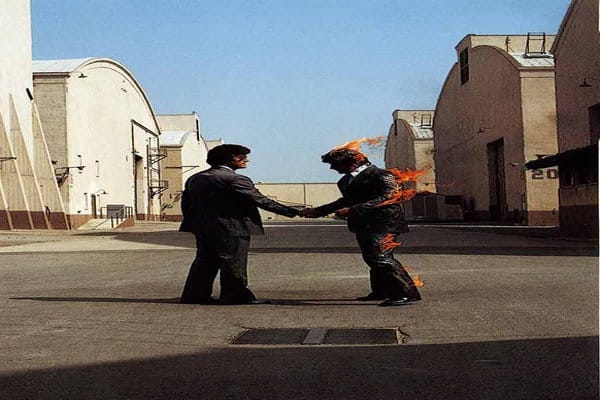 Wish You Were Here is the ninth studio album by the English progressive rock group Pink Floyd, released in September 1975. It explores themes of absence, the music business and former band-mate Syd Barrett's mental decline. Inspired by material the band composed while performing across Europe, Wish You Were Here was recorded in numerous sessions at London's Abbey Road Studios. Although some of these sessions were problematic, it was lead writer Roger Waters' idea to split the centrepiece track "Shine On You Crazy Diamond" in two and join each half with three new compositions. "Shine On" was a tribute to Barrett, who, coincidentally, made an impromptu visit to the studio while it was being recorded.
As with their previous album, The Dark Side of the Moon, the band made use of studio effects and synthesisers. Roy Harper provided the lead vocals on "Have a Cigar". The album's packaging, designed by Storm Thorgerson, featured an opaque black sleeve which hid the album artwork. Wish You Were Here was an instant success and record company EMI was unable to print enough copies to satisfy demand. Although it initially received mixed reviews, the album has since been acclaimed by critics and appears on Rolling Stone magazine's list of the "500 Greatest Albums of All Time". Band members Richard Wright and David Gilmour have each declared Wish You Were Here their favourite Pink Floyd album.
During 1974 Pink Floyd sketched out three new compositions, "Raving and Drooling", "You Gotta Be Crazy" and "Shine On You Crazy Diamond". These songs were performed at a series of concerts in France and England, the band's first tour since 1973's The Dark Side of the Moon. As Pink Floyd had never employed a publicist and kept themselves distant from the press, their relationship with the media began to sour. Following the publication by NME of a negative critique of the band's new material, by Nick Kent (a devotee of Syd Barrett) and Pete Erskine, the band returned to the studio in the first week of 1975.
As in The Dark Side of the Moon, the band used synthesisers such as the EMS VCS 3 (on "Welcome to the Machine"), but softened with Gilmour's acoustic guitar and percussion from Mason. The start of "Shine On" contains remnants from a previous but incomplete studio recording by the band known as "Household Objects". Wine glasses had been filled with varying amounts of fluid, and recordings were made of a wet finger circling the edge of each glass. These recordings were multi-tracked into chords,and used in the opening of "Shine On".
Jazz violinist Stéphane Grappelli and classical violinist Yehudi Menuhin were performing in another studio in the building, and were invited to record a piece for the new album. Menuhin watched as Grappelli played on the song "Wish You Were Here"; however, the band later decided his contribution was unsuitable and, until 2011, it was believed that the piece had been wiped. It turns out his playing was included on the album, but so low in the final mix that the band presumed it would be insulting to credit him. He was paid £300 for his contribution (£1,900 as of 2013). Dick Parry again played saxophone, on "Shine On You Crazy Diamond". The opening bars of "Wish You Were Here" were recorded from Gilmour's car radio, with somebody turning the dial (the classical music heard is the finale of Tchaikovsky's Fourth Symphony).
Recording sessions had twice been interrupted by US tours (one in April and the other in June 1975), and the final sessions, which occurred after the band's performance at Knebworth, proved particularly troublesome for Waters. He struggled to record the vocals for "Have a Cigar", requiring several takes to perform an acceptable version. His problems stemmed in part from his limited vocal range, but also from the stresses placed upon his voice while recording the lead vocal of "Shine On". Gilmour was asked to sing in his place, but declined, and eventually colleague and friend Roy Harper was asked to stand in. Harper was recording his own album in another of Abbey Road's studios, and Gilmour had already performed some guitar licks for him. Waters later regretted the decision, believing he should have performed the song. The Blackberries recorded backing vocals for "Shine On".
The band played much of Wish You Were Here on 5 July 1975 at an open-air music festival at Knebworth. Singer Roy Harper, performing at the same event, on discovering that his stage costume was missing proceeded to destroy one of Pink Floyd's vans (injuring himself in the process). This delayed the normal setup procedure of the band's sound system. As a pair of World War II Spitfire aircraft had been booked to fly over the crowd during their entrance, the band were not able to delay their set. The result was that a power supply problem pushed Wright's keyboards completely out of tune, damaging the band's performance. At one point he left the stage, but the band were able to continue with a less sensitive keyboard, a piano and a simpler light show. Following a brief intermission, they returned to perform The Dark Side of the Moon, but critics displeased about being denied access backstage savaged the performance.
The album was released on 12 September 1975 in the UK, and on the following day in the US. In Britain, with 250,000 advance sales it went straight to number one, and demand was such that EMI informed retailers that only 50% of their orders would be fulfilled. With 900,000 advance orders (the largest for any Columbia release) it reached number one on the US Billboard chart in its second week. As of 1991 Wish You Were Here was Pink Floyd's fastest-selling album ever, but initially received mixed reviews:
Despite the problems during production, the album remained Wright's favourite: "It's an album I can listen to for pleasure, and there aren't many Floyd albums that I can." Gilmour shares this view: "I for one would have to say that it is my favourite album, the Wish You Were Here album. The end result of all that, whatever it was, definitely has left me an album I can live with very very happily. I like it very much."
Wish You Were Here has been remastered and re-released on several formats. In the UK and US the album was re-issued in quadraphonic using the SQ format in 1976, and in 1980 a special Hi-Fi Today audiophile print was released in the UK. In the US it was released on CD in 1983, and in the UK 1985, and again as a remastered CD with new artwork in 1994. In the US, Columbia's CBS Mastersound label released a half-speed mastered audiophile LP in 1981, and in 1994 Sony Mastersound released a 24-carat gold-plated CD, remastered using Super Bit Mapping, with the original artwork from the LP in both longbox and jewel case forms, the latter with a cardboard slipcover. The album was included as part of the box set Shine On, and five years later Columbia Records released an updated remastered CD, 17 seconds longer than the EMI remasters from 1994, giving a running time of 44:28. Its label was a recreation of the original machine handshake logo, with a black and blue background. The album was subsequently re-released in 2000 for its 25th anniversary, on the Capitol Records label in the US. The album was re-released and remixed in 2011 in multiple editions as part of the Why Pink Floyd…? re-release campaign. The Immersion Box Set includes the new stereo digital remaster (2011) by James Guthrie on CD, a previously unreleased 5.1 Surround Mix (2009) by James Guthrie on DVD and Blu-ray, a Quad Mix (previously released only on vinyl LP and 8-track tape) on DVD, as well as the original stereo mix (1975) on DVD and Blu-ray. This campaign also featured the 2011 stereo remaster on 180g heavyweight vinyl as well as the 2011 stereo remaster and the 5.1 surround sound mix (2009) as a Hybrid SACD.
Track listing
All lyrics written by Roger Waters.
Side one
No.
Title
1.
"Shine On You Crazy Diamond, Parts I–V"
2.
"Welcome to the Machine"
Side two
No.
Title
1.
"Have a Cigar"
2.
"Wish You Were Here"
3.
"Shine On You Crazy Diamond, Parts VI–IX"