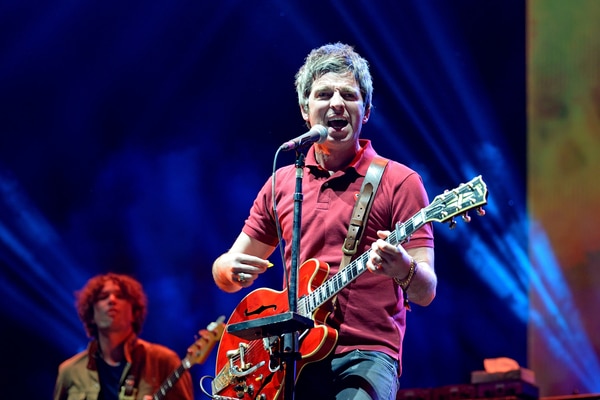 Noel Gallagher said that he does not feel live gigs will return to the UK "anytime soon", due to the "f*****g dreadful" Covid-19 restrictions.
Gallagher, who has recently scored his 12th UK Number 1 album with Noel Gallagher's Highflying Birds' "Back The Way We Came", shared his views on when he thinks he will be able to tour again and the music industry.
"Live music ain't coming back any time soon (in the UK)", Gallagher said on Matt Morgan's Patreon Podcast. 
Gallagher also vowed to perform live in America before he does in the UK, as he feels the situation is more "open" stateside.
Gallagher also blasted the "f*****g dreadful" UK Covid restrictions on live music.
Noel Gallagher on Prince Harry, Keith Richards and Bono
Noel Gallagher also recently recalled a funny conversation he had between himself and Rolling Stones' Keith Richards, who asked him "Who was the bigger c**t?", Mick Jagger or Noel's brother Liam.
"So I go up to the bar and there is Keith Richards, looking exactly as you would imagine, scarf and a hat, and his son is a friend of mine, Marlon, said 'Dad' and he suddenly turns around and says, 'ah your still around are you'", Noel said.
"But he said a great thing, you'll have to bleep it out, but it is a brilliant line. His second line was, he said, 'one thing I've always wanted to ask you, who is the bigger ***t, your singer or mine?' and I said 'well, as your singer wrote some of the greatest lyrics of all time… I'm going to say mine", he added.
Gallagher continued, "He (Richards) was like, 'Your band, you were quite interesting there for a while,' and I was like, 'I could actually say the same to you'. But he was great and such a dude. It kinda reaffirms your faith in all your heroes when you meet Keith, because he is the man". 
Check out Nova's report on that and what Gallagher had to say on Bono here. 
Noel Gallagher also recently took aim at Prince Harry, branding him a "woke snowflake".
Click here to find out more.