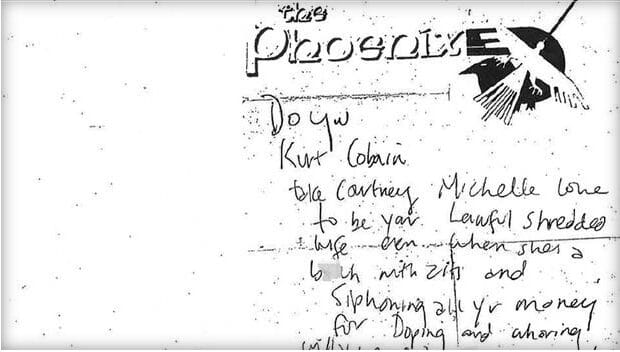 A note found in the wallet of Nirvana frontman Kurt Cobain has been released by Seattle police. According to cbsnews, the note was taken from his wallet, logged into evidence days later in the Seattle Police Department (SPD) case file, and never made public. The note has been kept secret for the past twenty years and has only been released now.
The reason the note has been released now is due to the recent 20th anniversary of Kurt's death and the recent re opening of the investigation into his suicide. The investigation subsequently didn't recover any new evidence regarding the conspiracy theory of his of murder.
Written on paper from the Phoenix Hotel in San Francisco, the note appears to mock the marriage vows between Kurt and Courtney. The note reads:
'Do you Kurt Cobain take Courtney Michelle Love to be your lawful shredded wife. Even when she's a bitch with zits and siphoning all yr money for doping and whoring.'"
Kurt Cobain was 27 when he was found in his home on Lake Washington Boulevard on April 8, 1994. He was found by an electrician who had been hired to do some work on the house.