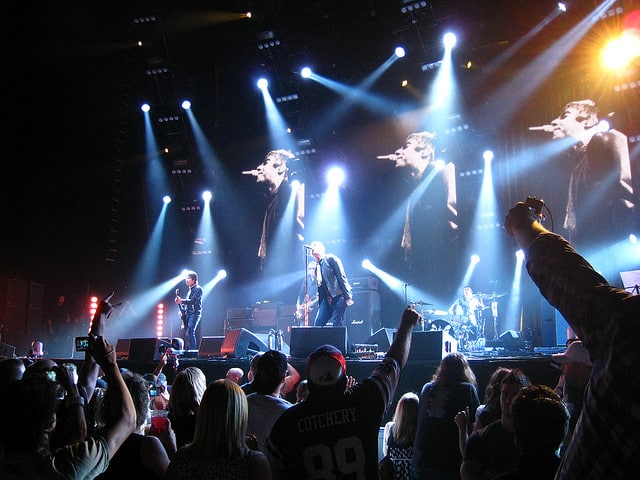 A rumoured Oasis documentary and a live album are reportedly in the pipeline.
The film and LP are supposedly from the Manchester band's 1996 performances at Knebworth House.
The popular English venue was first played by the Allman Brothers Band in 1974, the Southern rockers managed to attract a crowd of 60,000.
Since then, Knebworth House has hosted a non-stop array of talented acts. Pink Floyd, The Rolling Stones and Led Zeppelin all played there in the seventies.
Queen, Paul McCartney, Elton John, Red Hot Chili Peppers have also all headlined at Knebworth.
Oasis performed on August 10th & 11th in 1996 to nearly 300,000 people. They were supported by Manic Street Preachers, The Chemical Brothers, The Prodigy, Kula Shaker, The Charlatans and The Bootleg Beatles.
There were apparently 2.5 million requests for tickets, making it one of the most sought after concerts in British history.
In an interview with Event, Noel spoke about whether the Oasis documentary was happening: "Oh yeah! Just because it'll be the 20th anniversary of our Knebworth concerts in 2016. And because we're a bunch of nutters, we've completely forgotten that we had actually filmed the whole thing."
"With like 20 cameras and a lot of what happened on the festival ground as well. Like fans arriving, backstage sequences, interviews and flights over the area. Which we've never released. I've no idea why."
"We decided that 2016 would be a good moment to do so, since Knebworth was the highlight of our career. We think that the 20th would make a good occasion to reflect on that, or to tell the history of Oasis – and then leave it at that. So far there's going to be a documentary and a live album."
Read about Noel Gallagher's very entertaining appearance on Match Of The Day 2 last night.