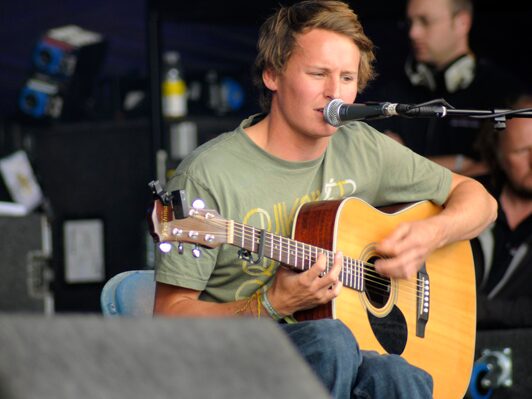 Birthday Boy, Ben Howard celebrates his 30th birthday today! The English singer songwriter was born in London in 1987 but was raised in Devon; a move which greatly influenced the music he was to write.
He is among the wave of British folk artists that hit commercial success in the 00's. His debut E.P Games In The Dark released in 2008, was self-released the very same year as Mumford and Sons' first E.P, this finds him among good company. Howard has a distinctive percussive strumming style; the "pick and go" and his method of laying the guitar flat on top of his knees and playing it percussively was influenced by contemporary folk songwriter and guitarist John Smith.
His debut was followed by two more EPs, These Waters (2009) and Old Pine (2010). He is currently signed to Island and Communion and his major debut studio album came in 2011 titled Every Kingdom.
The folk-rocker was nominated for a Mercury Prize in 2012 but was beaten by Alt-J. However he went on to win both BRIT awards he was nominated for in 2013. He took home a BRIT award for British Breakthrough Act and British Solo Male Artist. That same year he performed at Glastonbury festival on the Pyramid Stage.
The left-handed guitar player has since gone from strength to strength; taking time and effort to craft 2014's follow up effort I Forget Where We Were and was rewarded with said album going straight to number one on the U.K album charts and number five in Ireland.
After touring extensively Ben Howard appears to be laying low with no activity recently on his socials. However NME recently reported on "a band called A Blaze Of Feather – a completely unknown entity with no music to their name" who "have popped up on a couple of festival bills. Nobody knows for certain who's behind the project, or how they ended up on line-ups with a higher billing than the likes of Maggie Rogers and The Lemon Twigs."
It seems Ben Howard could be linked to the project as he shares the same management company. Latitude's press release also listed A Blaze Of Feather as "the first singing on Ben Howard's label".
It's not yet known whether this is Ben Howard's new band, a completely fresh start, a one-off collaboration or something else altogether.
Either way, we hope he enjoys his b-day celebrations!
Picture Credit: RichKnowles