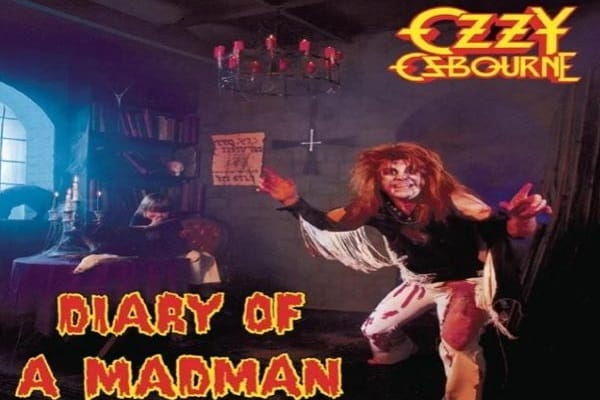 Yesterday, November 7th marked 40 years since the release of Ozzy Osbourne's 2nd studio album, Diary of a Madman. The Godfather of Metal re-establishes himself as the 'wildman' of commercial metal in this follow up to his debut solo album, Blizzard of Ozz.
Osbourne skilfully combines fast-paced tracks like Over the Mountain, Flying High Again, and S.A.T.O., with the dynamic tones of You Can't Kill Rock and Roll, and Tonight. Guitar wizard, Randy Rhoads shines throughout this enigmatic masterpiece to perform some of his finest work.
At the time of releasing D.O.A.M. in '81, Ozzy was riding high on the popularity of his debut album. Rhoads explored his true brilliance for this second coming, which also featured former Uriah Heap drummer, Lee Kerslake.
Diary Of A Madman is the last piece of work to feature 2021 Rock And Roll Hall Of Famer, Randy Rhoads. Selling over five million copies worldwide, the album reached multi-platinum and featured at No. 15 on Rolling Stone's 2017 list of 100 Greatest Metal Albums Of All Time.
Kory Grow noted, "A year after proving he was still a vital musical force on his first post–BLACK SABBATH solo LP, 1980's 'Blizzard Of Ozz', Ozzy Osbourne demonstrated it wasn't a one-time fluke with an album of poppy and gothic anthems like 'Flying High Again' and the almost classical closing title track. Guitarist Randy Rhoads, who died in a plane crash while touring for 'Diary' in 1982, had already proven himself a virtuoso on 'Blizzard'; here, he worked even harder to find the rare nexus between showboat chops and clever songwriting…"
Like many albums when Ozzy was a genuine rock 'n' roll lunatic, Diary of a Madman was accompanied by controversy and legal wrangles. Arguments arose between bassist Bob Daisley and drummer Lee Kerslake who both claimed ownership of most of the lyrics on the album and coming up with the main ideas for Flying High Again, and Over The Mountain.
Neither bassist nor drummer received songwriting or performance credits, with liner notes crediting bassist Rudy Sarzo and drummer Tommy Aldridge. For the reissue in '02, original tracks were completely erased and re-recorded by Metallica bassist Robert Trujillo, and Faith No More drummer Mike Bordin.
In an effort to get back out on the road, Diary of a Madman was recorded quickly, with most songs written throughout 1980. By February of '81, recording had begun in at Ridge Farm Studios in Rusper, England with producer Max Norman. The album took less than a month to complete, coming a year and a month prior to Rhoads' tragic death in a plane crash, March 19th, 1982.
Featuring three singles that landed on the Mainstream Rock Chart, the renowned album entered Billboard's Album Chart in 16th position. Flying High Again hit No. 2, Over The Mountain peaked at No. 38, and You Can't Kill Rock and Roll made it to No. 41. On May 10th, 1982, Diary of a Madman was certified platinum by the RIAA, earning Ozzy triple platinum status on October 26th, 1994. The album has also recently been depicted as a 500-piece jigsaw puzzle by Rock Saws.