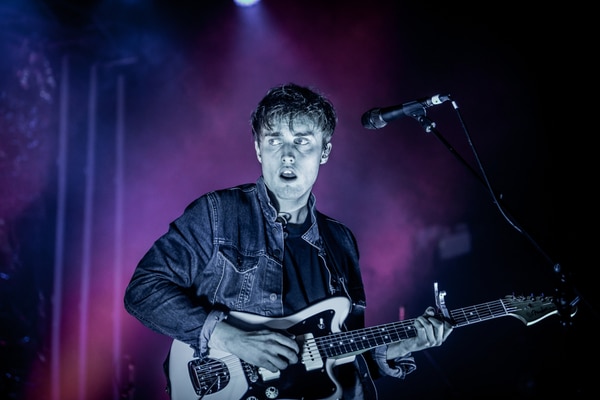 Sam Fender has revealed that he turned down an offer to collaborate with Elton John for his album The Lockdown Sessions.
Elton John had previously hailed the North Shields singer as "the best rock and roll artist there is".
However, Fender revealed to the Daily Star's "Wired" Column that he had to turn down the chance to work with the music legend, as he was already working on his second album "Seventeen Going Under". He added that he did not want to "rush" anything.
Sam Fender on "legend" Elton John
Explaing his decision, Fender had this to say.
"Elton is now actually a friend, so I've been hanging out with him and learning some of his tricks", he told the newspaper's column.
"He's a legend. We were going to do something for his 'Lockdown Sessions' album but I needed to stay focused on what I was finishing".
Fender also added, "We didn't want to rush it or f*** it up, so I hope we can return to it down the line or drop it in later".
The pair previously worked together when they performed a live cover of Fender's "Will We Talk" at Elton John's post Oscars charity party in February 2020.
Fender had said that his "finger was on the pulse" with regards to new music with the legend.
Back in October, Fender also added new dates for his UK Arena Tour for 2022.
The UK Arena tour dates are as follows.
Sam Fender UK Arena Tour March
20 – Motorpoint Arena, Nottingham
21 – M&S Bank Arena, Liverpool
24 – 3Arena, Dublin
26 – SSE Hydro Arena, Glasgow
27 – Utilita Arena, Birmingham
30 – Brighton Centre
Sam Fender UK Arena Tour April
1 – SSE Arena Wembley, London
2 – SSE Arena Wembley, London
5 – Utilita Arena, Newcastle
6 – Utilita Arena, Newcastle
July
6 – Castlefield Bowl, Manchester
More on this from Nova here.
Along with his new album, that same month also saw Elton John confirm an upcoming Christmas duet with Ed Sheeran. More on this here.