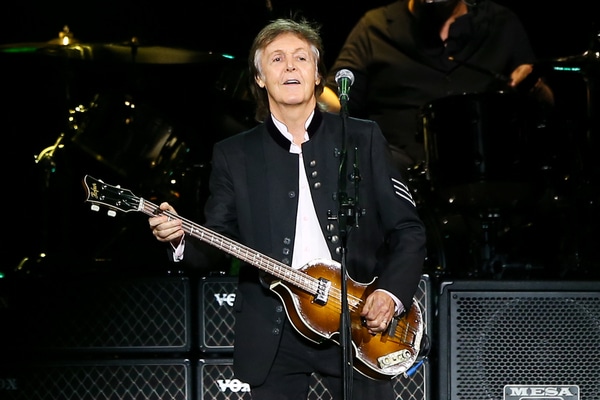 Paul McCartney has revealed that he hopes to complete an unfinished Beatles track. The track is called "Now and Then" and was originally written by John Lennon.
You can check out the original demo of Lennon's "Now and Then" below.
It had also been reported by the New Yorker that following Lennon's death, "[Yoko] Ono gave the surviving [Beatles] members demos that he'd recorded at home." McCartney, George Harrison and Ringo Starr would work to complete three of those tracks. Two – "Free as a Bird" and "Real Love" – were finished and included in the band's Anthology series. The third song, "Now and Then," was abandoned".
Producer Jeff Lynne later added, "The song had a chorus but is almost totally lacking in verses. "We did the backing track, a rough go that we really didn't finish".
"f***** rubbish" 
The late George Harrison was a bit more blunt in his explanation as to why the song got shelved. When asked about he track at the time, Harrison referred to "Now and Then" as "f****** rubbish". 
Despite this lack of enthusiasm, Paul McCartney has insisted that he is keen to finish off what John Lennon started.
"It didn't have a very good title, it needed a bit of reworking, but it had a beautiful verse and it had John singing it," he explained. "But George didn't wanna do it". 
Despite never being officially released, the track has circulated online. It features the late John Lennon singing and accompanied by the piano.
The poor recording technology may have also played a part in the song being abandoned as a project.
Check it out for yourselves below.
https://www.youtube.com/watch?v=mPe4QyMtbUQ&t=2s
"I did not instigate Beatles split" – McCartney
On top of this, Paul McCartney recently denied rumours that he was the sole instigator in the break up of the Beatles. The music icon cited John Lennon's decision to leave the band as the reason for the split up.
More on this here.
Ringo Starr also revealed that the Beatles turned down the offer of a reunion concert in 1973.
Another Beatles track "Come Together" (a complete one) was also recently performed by Starr and several other legendary drummers. More on that story here.