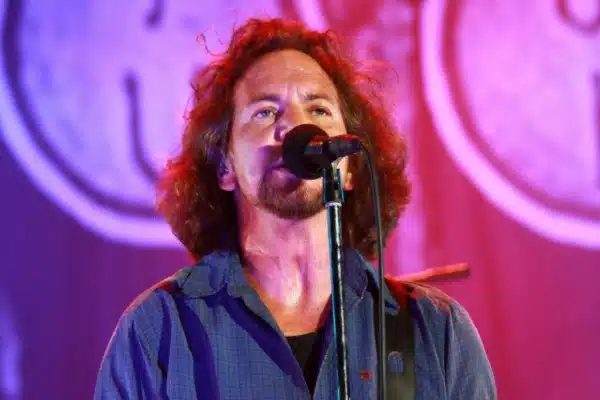 Pearl Jam bassist Jeff Ament is hopeful that the band will release a new album by 2024.
Ament was speaking to Kyle Meredith about releasing a follow up to 2020's 'Gigaton'. The bassist even hinted that the band could even tour again next year.
However, he insists that there is still plenty of work to do, for Pearl Jam to release this album, in terms of songwriting and recording sessions.
"I think I heard Stone [Gossard, guitar] thought that the record was done, but I know for a fact that it's not. I don't think all the songs are done", Ament said.
He also added, "The hardest part of making a record a lot of times is figuring out which songs go on the record and do we need to record another song, and what's the artwork and what's the title, and all that stuff".
"bit of a grind"
Describing last Summer as a "bit of a grind", Jeff Ament hinted that Pearl Jam may take some time off, having been on the road touring Europe and America last year.
"And I know for a fact right now everybody wants the summer off, because last summer was a bit of a grind. For me, in a week, I'm shutting everything off", Ament continued.
"And I know at that point, the record's still not done, so come September we're still gonna be… The questions we have about where we're at and whatever, we'll ask those questions again and we'll revisit them".
Despite this mini-hiatus, Ament remains confident that fans will be hearing new music from Pearl Jam in 2024.
"But I think everybody hopes that we have a record out next year. If we have a record out next year, that means we'll probably play a few more shows. There's a couple of places we haven't played in quite a while. I think we have stuff penciled in", he said.
This "grind" also saw the band forced to call off shows after frontman Eddie Vedder encountered vocal issues.
"earned the right"
Elsewhere, Jeff Ament went into detail about the inspiration behind this new material from Pearl Jam.
"Well, we've talked a lot about, in the last three or four years, how we've sort of earned the right to do whatever the f*** we want to right now", he explained.
He added, "And so why wouldn't we go all the way with that? Saying, like, 'Everybody, make a list of the 10 things that you wanna do in this band before we're done. Where is the city that you've never played? Or where is the venue you wanna go back to? Or what's the kind of song you wanna write? Or what's the cause you wanna get behind within the context of the band?' Those are sort of the things I talk about".
"amazing community"
The interview also saw Jeff Ament praise the close bond within Pearl Jam and beyond, hailing it as an integral part of the band's longevity.
"We have this amazing community as a band and the families within the band, and the people that we work with and the people that have worked with us for, like, 32 years in some cases. It's taken us this long for it to work this efficiently. We should be killing it right now in every way. I think that's what we hope for musically", Ament claimed.
"I think we wanna turn the corner and I think we wanna access all the best parts of each other and we wanna flourish within that. We just wanna support the best parts of each other so we consequently make the best music".
He added, "Sometimes there's a lot of ego involved, and if somebody feels like they're working harder than the other person, or whatever the stuff is, but if you can just leave that stuff behind and focus on how do we support each other so each person brings the best to the song we're working on right now".
Pearl Jam look set to kick off a set of shows across the US in August. More info on this here.