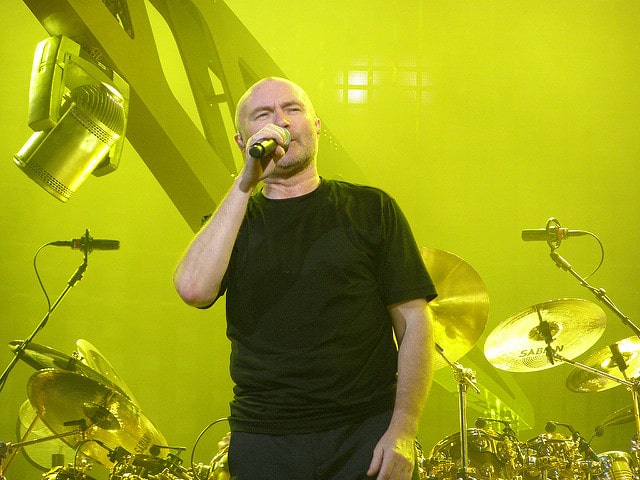 Phil Collins has discussed his drumming injuries and the possibility of playing again.
It was announced yesterday that Collins is set to return to the stage in 2017, with a five night residency in London, as well as gigs in Germany, France and a rumoured appearance at Glastonbury. The full list of confirmed dates are:
London, Royal Albert Hall (June 4, 5, 7, 8, 9)
Cologne, Lanxess Arena (11, 12)
Paris, Accors Hotel Arena (18, 19)
The announcement, which was made by press conference at the Royal Albert Hall in London with Jools Holland, also saw the musician discuss his drumming injuries. The 'In the Air Tonight' singer said "I'll never play the way I used to," adding, "Something happened on the Genesis reunion tour. At the end of each show, I had a drumming duel with Chester Thompson, and one night something happened. It just went. I tried everything – bigger drumsticks and so on, but it just never came back. It's a mystery what happened, I just couldn't get it back. But I'm 65 and I played drums since I was five. I'd like to have the choice about being able to play, but I'm not going to cry myself to sleep about it."
Collins revealed that his son Nicholas would be taking over as drummer on the up-coming tour, "He's learned from watching John Bonham, Chad Smith and me, so he's got some balls when he plays. He takes notes very well. It can obviously be awkward when it's family, they might not take criticism, but Nick is great at taking advice."
Tickets for Phil Collins' 'Not Dead Yet' tour will be on sale from 21 October.
Photo Cred: Santi Banks