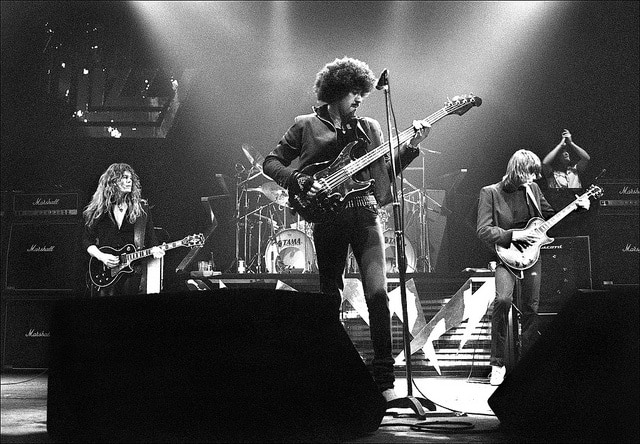 A new book about Phil Lynott has shed light on the fact that although he was at Live Aid in 1985, Phil wasn't invited to play at the show. He was apparently backstage at Wembley during the gig but wasn't asked to play by organiser Bob Geldof.
Phil Lynott later spoke of his disappointment that his close friends and organisers Bob Geldof and Midge Ure, did not approach him to reform Thin Lizzy for the concert on July 13, 1985.
In a new book by author Alan Byrne Are You Ready? Thin Lizzy: Album by Album, he speaks about how the concert could have been a real boost for Phil Lynott. It was only six months later when he passed away aged just 36 from drug-related heart failure and pneumonia.
Byrne said that "Phil was backstage at Live Aid early in the day at Wembley Stadium. He'd gone up there with Midge Ure to collect a bass guitar." adding that "He then flew back to Dublin that afternoon and auctioned the bass guitar off during RTE's Live Aid coverage."
During the broadcast Phil spoke about not being asked to play saying "I'd love to be up there playing but, because I haven't got a band and stuff like that, obviously it's impossible, but I feel jealous when I watch it now."
The Who were asked to reunite for the gig and Live Aid revitalized Queen's career in 1985, so getting Thin Lizzy to reunite wouldn't have been much of a stretch.
Photo Credit: Harry Howard Potts