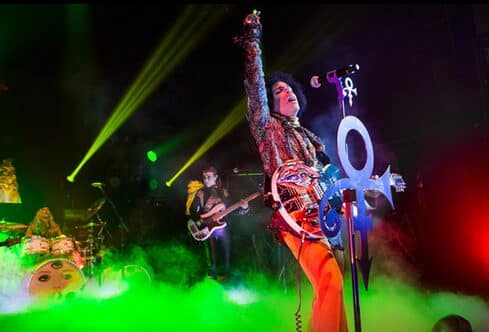 Yes you've read that correctly. Prince performed last Sunday night in a two and a half hour show at London's Shepherd's Bush Empire.
Prince and 3rd Eye Girl played almost 40 tracks during the performance with a setlist comprised of hits, covers and new tracks from 'Plectrum Electrum.
In relation to the £10 ticket price, some fans of the performer had been queuing for about seven hours after hearing the surprise show announced on BBC 6Music just before midday.
The ticket price was rumoured to be £70 but fans were actually charged £10 on the door.
'How much did you all pay to get in?" asked Prince to deafening applause. "That's nice – that's what we used to pay to get I to concerts when I was a kid."
Prince appeared on stage in an embroidered tunic before changing into the black waistcoat and peach-gold turtleneck he wore at last week's shows. His gold platform shoes had LED lights that lit up red or white depending on the song. Lime green lasers, lilac lights, smoke machines and three fake flames were employed on stage.
There were some celebrities in the crowd that included George Clinton – who Prince described as his 'teacher' at the end – Sharleen Spiteri, Cara Delevingne, Nick Grimshaw, Gemma Arterton and Josh McClorey of The Strypes.
Prince revealed to BBC 6Music (Feb 4) other venues such as Ronnie Scott's and the Bag O' Nails Club in Soho. Either way, he will not be replicating the O2 Arena shows he played in 2007.
"That was a different time, this is a different band," he said. "We'll work our way up, if people like us, to bigger venues."
Quizzed on how long he plans to stay in London, he said his trip was "open-ended", explaining:
"We're going to be here until people don't want to hear us any more." Tickets for the upcoming shows will also be priced reasonably for fans. "We wanna charge about $10 a ticket. This is a new band, people are getting something new."
The long setlist included:
Setlist
'Pretzelbodylogic'
'Let's Go Crazy' (incl. 'Frankenstein' interpolation)
'Funk'n'roll'
'She's Always In My Hair'
'I Could Never Take The Place Of Your Man'
'Guitar'
'Plectrum Electrum'
'Fixurlifeup'
'Marz' (Incl. 'Johnny B Goode')
'Colonized Mind'
'Chaos And Disorder'
[Piano set]
'How Come U Don't Call Me Anymore'
'The Beautiful Ones'
'Diamonds And Pearls'
'Purple Rain'
'Do Me, Baby'
'Adore'
'Forever In My Life (instrumental)'
'Thunderstorm'
'When Doves Cry'
'Sign O' The Times'
'Nasty Girl' (instrumental)
'Housequake'
'A Love Bizarre' (instrumental)
'I Would Die 4 U'
'Hot Thing'
'777-9311' (instrumental)
'The Most Beautiful Girl In The World' (sample)
'Mr. Goodnight' (sample)
'Breakfast Can Wait' (sample)
'Play That Funky Music'
'Something In The Water (Does Not Compute)'
'Cause And Effect' (incl. 'Love 4 One Another')
'Endorphinmachine'
'Dreamer'
'Screwdriver'
'I Like It There'
'Bambi'