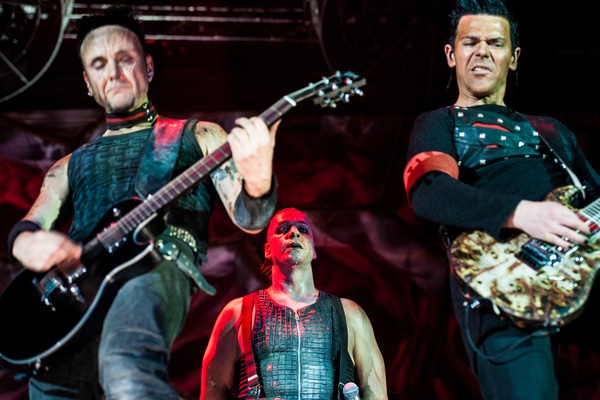 Band members from Rammstein, Ministry, Faith No More, and Filter have formed a supergroup to release the Beatles' 1969 track 'Come Together'.
This group were formed by COP International who are a record lable based in California. The track was covered to support Ukrainain rafugees.
This latest cover of 'Cover Together' is a swag-rock anthem. It also includes a huge, stomping percussion and smoky vocal harmonies.
The cover also ends with elements of Queen's 'We Will Rock You'. Except the lyric has been cleverly changed to "We Will Stop You'. Check it out here.
Among the musicians involved are Billy Gourd of Faith No More. Gourd works alongside former Ministry vocalist Chris Connelly, Rammstein's Richard Kuspe, and former Filter drummer Matt Walker.
All proceeds from this streamed track will go to UNICEF. The track is also available on Bandcamp.
The charity said in their website, "UNICEF is working with partners to reach vulnerable children and families [in Ukraine] with essential services – including health, education, protection, water and sanitation – as well as life-saving supplies".
"a simple and direct message"
COP International founder Christian Petke is responsible for this project. Petke worked alongside producer John Fryer who has also worked with bands like Depeche Mode and Nine Inch Nails.
Petke said in this statement. "This song is a simple and direct message to the millions of people who are currently suffering in Ukraine and beyond. You are not alone. We see you", he wrote.
Petke continued, "While we are obviously excited about this new song's immediate ability to raise awareness and money".
"We'd like to think that 'Come Together' is only the first step of many. The simple act of supporting one song can help spread a message of hope and compassion around the entire world".
John Fryer also added, "I'm shocked, stunned, dismayed, angry, horrified and saddened by the situation in Ukraine. I don't how one man's insane ego can cause this much death and destruction".
Rammstein themselves have been very supportive of Ukraine through their use of social media. See here.
This is also not the first time that 'Come Together' has been covered for a charitable cause. More here.