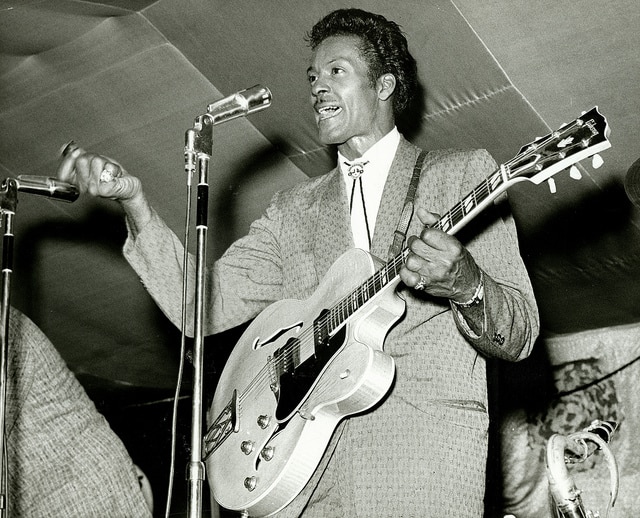 Tributes are continuing to pour in for rock music legend Chuck Berry who passed away over the weekend.
The New York Times said of the late musician, "Mr. Berry was its [Rock N' Roll] master theorist and conceptual genius, the songwriter who understood what the kids wanted before they knew themselves."
Red Hot Chili Peppers also paid homage to the rock music pioneer on Saturday night during the band's concert in Vancouver with a surprise electrifying rendition of the rock pioneer's breakout single "Johnny B. Goode" following Berry's death.
https://www.youtube.com/watch?v=ShD1G5-UbU0&feature=youtu.be
Chili's drummer Chad Smith later tweeted a photo of him and Berry backstage at a 2008 concert.
Perhaps Berry's most famous track, 'Johnny B Goode' has been covered by many artists over the years, including The Beatles, Jimi Hendrix and Judas Priest.
Red Hot Chili Peppers were among the many artists to play the famous track as tribute over the past few days.
Green Day also performed the 1958 classic at their London, Ontario gig over the weekend with Sting (at a winery), Bon Jovi (at a Columbus, Ohio concert), Gene Simmons (at his first ever solo show) and the Roots (at SXSW) each performing "Johnny B. Goode" at their respective shows.
Sting took to social media to say, "We lost Chuck Berry yesterday," next to a snippet of his solo acoustic rendition of "Johnny B. Goode." "Without Chuck Berry, there's no Rolling Stones, there's no Beatles, there's no me. He was an incredibly influential musician and amazing lyricist. Though I'd never sung this song before, I wanted to find a way to pay tribute to him because we owe him so much."
Berry had been working on a new album and in a statement his family provided an update on its release
"Since Chuck's passing on Saturday, the Berry family has received many inquiries from friends, fans and media about the status of his forthcoming album CHUCK, which was originally announced on his 90th birthday, 18 October 2016."
Photo Credit: Missouri History Museum