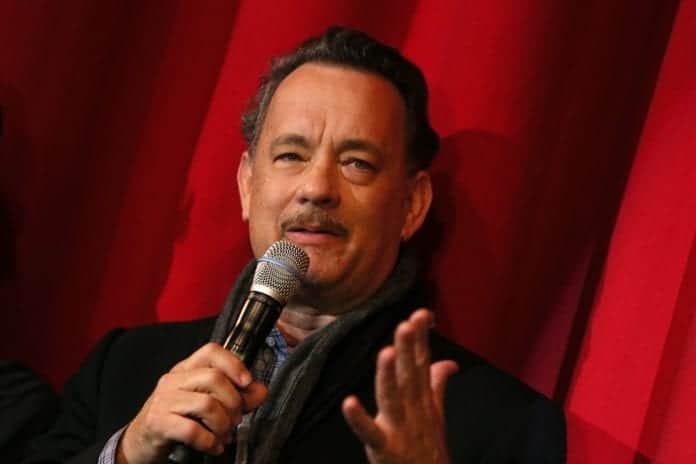 Next month will see the Tribeca Film Festival take place at the historic Beacon Theatre in New York's Upper East Side. It's now been revealed that in a newly announced series of "Tribeca Talks" Tom Hanks will take on the role of interviewer and sit down with long-time friend, The Boss himself, Bruce Springsteen to discuss Springsteen's position in American Rock history.
Springsteen and Hanks of course worked together on Johnathan Demme's 1993 film Philadelphia when Springsteen took home Best Music, Original Song at the 1994 Oscars, for 'Streets of Philadelphia', written for the movie with Hanks winning Best Actor for his performance in the main role. We again saw the mega stars doubly honoured in November. Both the musician and film icon were honoured by former president Barack Obama with the Presidential Medal of Freedom, joining a group that included Ellen DeGeneres, Robert De Niro, Robert Redford, Lorne Michaels, Diana Ross. 
The mega stars chat this April 28th will however focus on Springsteen's 40-plus years as a leading musical voice of working-class America, and what his ambitions are for the future.
Organisers invite you to "… be a fly on the wall of intimate, once-in-a-lifetime conversations between some of today's most sought-after creative forces at the."
Their talk is one of several newly announced events in next month's festival. Scarlett Johansson, Kobe Bryant, Lena Dunham, Barbra Streisand (interviewed by director Robert Rodriguez), Dustin Hoffman, Noah Baumbach, Common, filmmaker Alejandro González Iñárritu (Birdman, The Revenant) and  will also participate in panels and discussions at the festival, which runs April 19th through the 30th.
"It is an incredible privilege to get a glimpse into the creative process of some of the most brilliant figures in film, music, and culture — and one of my favorite parts of the festival experience," said Tribeca's Paula Weinstein. "The Tribeca Talks series allows audiences to join the discussions, and offers a chance to peek into the minds of their favorite entertainers to better understand their creative journeys."
Tickets for the Springsteen/Hanks event go on sale today, March 21st at Ticketmaster via the Tribeca website and if you happen to be Stateside next month the event is a must see. Tickets for the other Tribeca Talks will be available starting Tuesday, March 28th.
Picture Credit: Telefónica in Deutschland