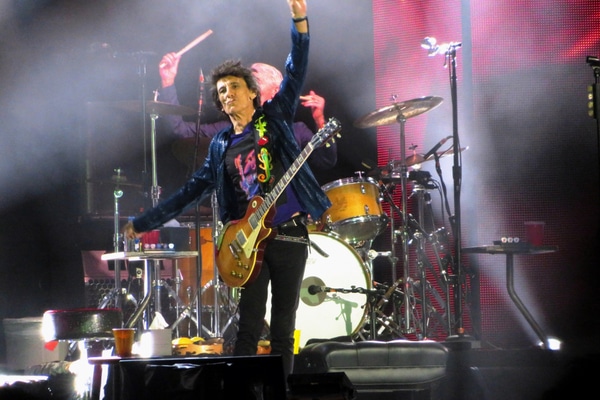 Rolling Stones guitarist Ronnie Wood has said he is "humbled and honoured" to receive his new accolade, Freedom of the City of London. Yesterday, the 73 year-old revealed that he was the recipient of the prestigious honour from the musician's hometown in the UK.
The award is bestowed on people of all nationalities and backgrounds that have provided exceptional service to the U.K.'s capital city. Previous recipients include Admiral of the Fleet Rt Hon Lord Mountbatten of Burma, Diana, Princess of Wales, King Kigeli V of Rwanda, Dwight D. Eisenhower, Nelson Mandela, Luciano Pavarotti, Morgan Freeman and J. K. Rowling.
Delighted with the award, Ronnie took to social media to share his new, prestigious accolade and declared his joy of receiving the honour. The Start Me Up rocker grew up in London and has witnessed his hometown from different perspectives throughout his life.
"My Lord Mayor, Lord Chamberlain, Ladies and Gentlemen, I am humbled and honoured to receive the Freedom of the City of London," said Ronnie. "As a child, I saw the city from the canals and over the years I've seen it from many different perspectives.
"Despite my career in music and art taking me all over the world, I am never happier than when coming home to this great city where I was born," declared Ronnie. "It is a lovely surprise to be recognised with this award and it has made me, Sally, and my twin girls Alice and Gracie very proud. I very much hope to come and meet you in person at the Guildhall, when circumstances allow."
Freedom of the City of London is often thought to bestow certain privileges on the recipient, but these honours are largely historical. Recipients may oblige of the right to drive cattle over London Bridge or, the right to a silken rope if hanged, and the right to carry an unsheathed sword in public. However, as times have changed and swords becoming unfashionable, Ronnie will be happy enough to receive a certificate.
Even at the ripe old age of 73, Ronnie still has a lot to give and continues to work on new music. The guitarist recently teamed up with Noel Gallagher and Imelda May for the Irish singer's new track; Just One Kiss. The rocker also wants to have the chance to create more songs and tour again with The Rolling Stones. Wood recently joked that he hopes to be still alive by the time the band hit the road again, with plans curtailed until after the pandemic.