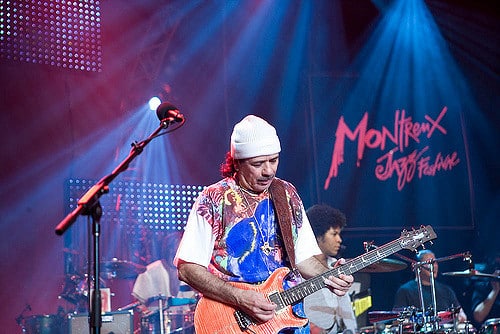 Santana have released a new track called 'Anywhere You Want To Go' and have made it available to stream online.
It is from the band's new album Santana IV, which is coming out later this year on April 4th. The new track gives fans a taster of what to expect on the new album.
Guitar icon and singer Carlos Santana, lead vocalist and keyboardist Gregg Rolie, guitarist Neal Schon, percussionist Michael Carabello and drummer Michael Shrieve reunited for the first time in 45 years, last working together when they produced the multi-platinum record Santana III in 1971.
Santana recently announced that select shows on their Luminosity tour this year will receive a CD copy of Santana IV with every pair of tickets. You can pre-order the album on Amazon or from Santana's website now.
Their current Luminosity tour sees them playing two shows in Las Vegas tonight and tomorrow night. From there they will be heading all the way to Dubai where they play on February 26th.
They will be finishing up the tour in quite a special way, with three shows in the US with Journey. They finish up on April 16th in Allentown, Pennsylvania. You can check out Santana's new track 'Anywhere You Want To Go' down below.
Photo Credit: Martin Cohen