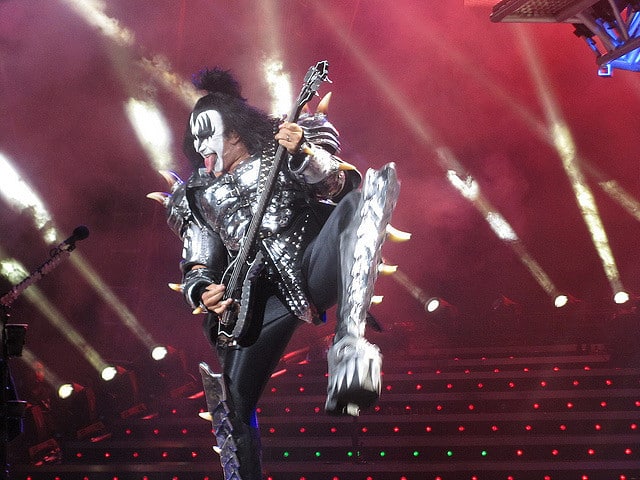 KISS founding member, Gene Simmons shared some exciting news recently. He reported that he and the band are writing new material.
A couple of months ago, the bassist and vocalist said that he had no desire to record a new LP. Cynically he said some people would "steal it and download it and file share it."
And while he maintains his opinion, Simmons says things are going on behind the scenes.
In a recent interview he revealed: "There's some writing going on. Not too long ago I wrote a song called 'Your Wish Is My Command'.
"It sounds anthemic, like something that might have come off Love Gun, maybe." However, he does add, "But I'm not incentivised."
"The idea that you work your ass off and then someone with freckles on their face decides they want to download your music and file share – that's not what I work for."
It a concern many artists have with the ever changing landscape of  the music industry nowadays.
KISS started out in very different times. The band got to gether in New York in 1973.
The original and best-known line-up consisted of Paul Stanley (vocals and rhythm guitar), Gene Simmons (vocals and bass guitar), Ace Frehley (lead guitar and vocals), and Peter Criss (drums and vocals).
Peter Criss spoke recently about how the music industry has changed from when they first started out saying:
"We were early pioneers and no one was doing that when we started out. Now everyone does it, so it isn't big news anymore."
Criss continued,"The '60s and '70s were the times to be around. I saw Jimi Hendrix, I saw the real Who, the real Zeppelin, the Beatles and seen the Stones many times now that I know them and we're friends. Over the years a lot has happened to me and I got to see all these great acts, and what I see today doesn't rock my cradle and doesn't do anything for me and I don't care for a lot of the music."
Well known for their members' face paint and stage outfits, the group rose to prominence in the mid-to-late 1970s with their elaborate live performances. Their concerts featured fire breathing, blood-spitting, smoking guitars, shooting rockets, levitating drum kits, and pyrotechnics. The band has gone through several line-up changes over the years, with Stanley and Simmons the only remaining original members.
The band are busy at present, touring Europe. We will keep you posted here at Nova with any more news of their new tracks actually being released!
Photo Credit: Beanhammer