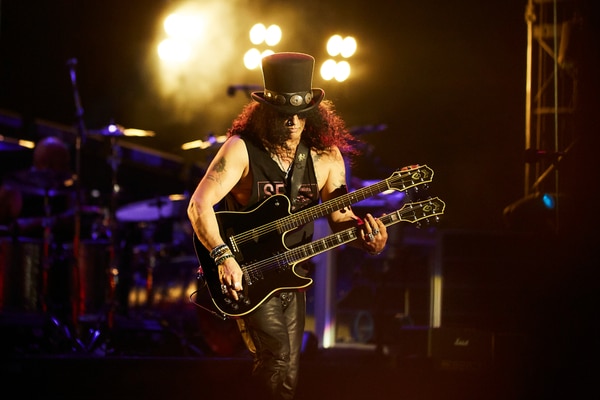 Legendary guitarist, Slash has shared how the band managed to stay COVID-free for the entirety of their 2021 touring. With many bands falling to the virus and cancelling shows, those who made it the whole 9 yards only done so with some stringent guidelines.
Beginning their 2021 North American tour in Hershey, Pennsylvania, on July 31st, G'N'R concluded their shows in Hollywood, Florida, on October 3rd. Although the band's opener, Mammoth WVH did cancel due to contracting the virus, Slash and the gang stayed clear.
In an interview with Daily Star (via UCR), Slash revealed they restricted everything as much as possible to avoid contamination. He recalled there were, "no after-parties, no record execs, no celebrations – and frankly it showed onstage. The crisis restored our communal passion for music. We've never enjoyed playing music so much! Onstage it was incredible – the audience had this crazy energy. The effect on the group as a whole was super positive."
"All of our entourage wore masks; there was never any contact with the outside world," added Slash. "No one was invited to the concerts; there were no after-parties. We would go straight from the hotel to the venue and back to the hotel until it was time to travel to the next town. If you told me that in the '80s, I wouldn't have believed you."
Although G'N'R were renowned for the exuberant after-parties back in their day, Slash is a firm believer that the recently introduced protocols are going to become standard going forward. "I think it was a little glimpse of what's to come. I think we are going to have to live with the virus and adapt to it."
Although the band may have been lucky to evade catching the virus that time round, Slash did test positive last year. The rocker and Myles Kennedy both contracted the virus whilst working on their forthcoming record, 4, though everyone is back to good health. The pair are set to release the new album on February 11th and start touring from Portland, Oregon on February 8th. — see the full schedule here.