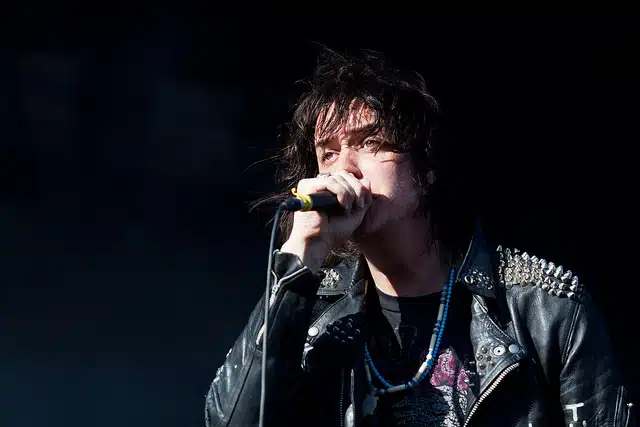 The Strokes' guitarist Albert Hammond Jr speaks about the band's early years playing in New York and about their hugely influential debut album.
In an interview with the Guardian's Dave Simpson, Hammond chats about his long standing friendship with frontman Julian Casablancas, writing songs such as 'Modern Age' and 'Soma' for 2001's Is This It and watching an Eddie Murphy film before the Strokes' very first gig.
Hammond Jr said: "I first met Julian Casablancas at boarding school in Switzerland at the age of 13. Years later, I ran into him in New York when I moved into a place near where he was working and, two weeks later, we were sharing a flat. He was already playing with the rest of the guys, so I was the last to join the band. I may have looked the part, but I still needed guitar lessons.
Talking about the recording process: "Julian wrote the songs. I remember him coming in with The Modern Age. He'd be like: "It's D to G. Yeah, kinda like that, but you're holding the chord wrong." It took time – but it was magical. By the end of the night, we'd have the song. From the first moment, I knew we'd be successful. Julian and I made a tape in the flat of Alone Together and Soma. When we played them in the car, they sounded really cool.
Speaking about The Strokes' first show: "It was 1998, and the plan was to rehearse for a year, then play live. Before our first gig, we were so nervous we went to see the Eddie Murphy film Bowfinger, hoping it would calm us down. The gig was probably terrible. It's hilarious that we were so nervous playing to six people, all of whom we knew.
"I realised things were starting to happen during one show at the Luna Lounge in Manhattan. We were the middle band. It was snowing, and there was an argument over what time we'd go on. We were really annoyed, so just went on and played a monster show, doing The Modern Age and Last Nite for the first time and kicking in the drumkit. Then all our friends left with us, and the headline band were left playing to an empty room.
Hammond claims that band were just doing their own thing, trying to make great music. "Although we'd listen to the Velvet Underground, the Beatles and Guided By Voices, we didn't feel part of any sea change bringing back cool guitar bands. I remember being at the Columbia Hotel in London, where lots of bands used to get put up. The other groups were aggressive, bringing in dudes to drink with, while we brought in girls. We had a lot of fun. When everything exploded for us, we thought: "Wow! Does this mean we can keep doing this?"
Last year, Julian Casablancas discussed his alcohol problems while being in the Strokes and admitted that his control issues hurt the band.