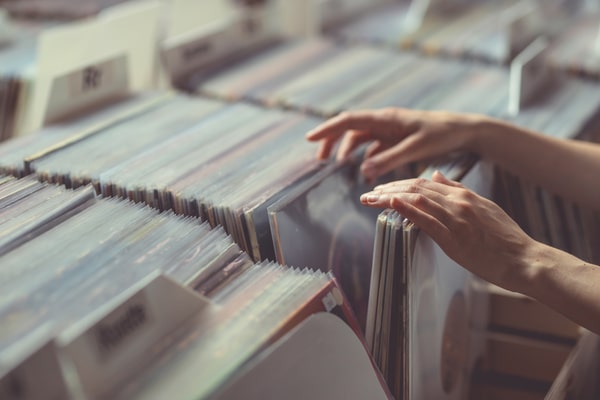 The kids have vinyl fever.
A new survey by MRC Data has revealed that those in the Gen Z age bracket purchase more music on vinyl than their millennial elders.
Millennials were the first generation to embrace digital music over physical formats, but it seems their Gen Z successors are sparking a vinyl revival.
The survey asked 4,041 people aged 13 and over if they had purchased a vinyl album in the past 12 months. 15% of those born between 1997 and 2012 (the rough parameters of Gen Z) claimed to have bought vinyl at some point in the past year. 11% of their millennial counterparts claimed to have done likewise.
Vinyl has experienced a boom in recent years and now outsells CDs. In the UK, 2020 vinyl sales were at their highest since the early '90s, having increased year on year for 13 straight years.
4.8 million vinyl albums were purchased in the UK in 2020, representing 18% of all album sales. That's a 10% increase on 2019. What's remarkable about this figure is how physical record stores were closed for much of 2020 due to the pandemic. It seems vinyl fans aren't put off by shipping costs.
Vinyl sales have been helped in recent years by campaigns like LoveRecordStores, Record Store Day and National Album Day.
"In a year when all our lives have changed, music's power to inspire has never been more evident," said Geoff Taylor, chief executive of the British Phonographic Industry. "The immediacy and convenience of streaming make it the go-to audio format for most of our listening, but more and more fans choose to get closer to their favourite artists and albums on vinyl. It's remarkable that LP and audio tape sales should have risen at all given the challenges we've all faced. The surge in sales despite retail closures demonstrates the timeless appeal of collectable physical formats alongside the seamless connectivity of streaming."
The trend is the same in the US, where vinyl record sales have seen a 108.2% year-on-year increase in the first six months of 2021.19.2 million vinyl albums were sold, compared to 18.9 million CDs. 2020 saw vinyl outsell CDs for the first time in 34 years.
The highest selling vinyl album this year in the US is Taylor Swift's Evermore, with Lana Del Ray's Chemtrails Over the Country Club topping UK sales.
Classic albums are popular with vinyl purchasers, with Prince's Purple Rain, Michael Jackson's Thriller, Queen's Greatest Hits and Fleetwood Mac's Rumours among the top-selling records so far this year.