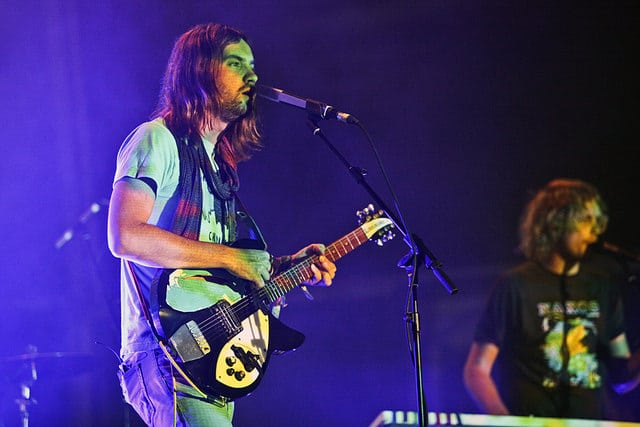 Tame Impala have released a new video of them performing their track 'Let It Happen' in front of a mirrored object. The band were performing as part of Deezer Sessions in Paris.
Tame Impala recently won three awards at the ARIA Awards where they won for Best Group, Album of The Year and Best Rock Album for their third album Currents.
The new album and track 'Let It Happen' have been described by NME as "An expansive third album that swaps fuzzy guitars for full-bodied bass and vivid synths," with the track 'Let It Happen' being "eight transcendent minutes of shifting, zen-like disco that find Kevin Parker telling himself to go with the flow and accept change."
Tame Impala recently released their third music video from the new album with 'The Less I Know The Better'. The band had previously released videos for their tracks 'Let it Happen' & 'Cause I'm A Man'.
Frontman Kevin Parker recently spoke about the issue of people downloading his music rather than buying it. Parker said "It's not really how much you pay for it or even whether or not it's physical, it can still have an effect on you. I'm not sure what that says about artists making money in the future."
You can watch Tame Imapala playing 'Let It Happen' for Deezer Sessions down below.
Photo Credit: scannerFM