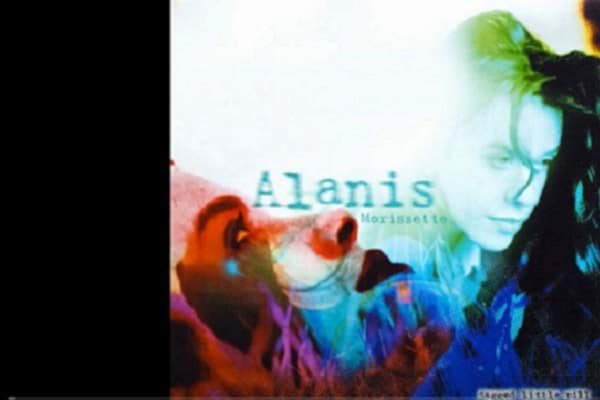 Today's edition of The 50 Albums That Changed Your Life looks at the 1990s to 1960s, featuring an album from Alanis Morrisette, U2, and the Beatles.
'Jagged Little Pill' – Alanis Morrisette
From 10am here on Nova, we will be delving into the archives, and checking out a fine album released by Alanis Morrisette called 'Jagged Little Pill'.
Arriving in 1995, the album was the first released by Morrisette internationally, having released her two previous studio records 'Alanis' and 'Now Is The Time' in her native Canada.
According to Alanis herself, no record label was interested in this album, until Maverick Labels which was founded by Madonna, arrived to her rescue and signed her up.
Madonna and Maverick Labels were reportedly impressed with tracks like 'Hand In My Pocket' and 'You Oughta Know'. Tracks which you can also tune into here on Nova from 10!
It was a roaring success, landing 4 Grammy Awards.
Certified Platinum 10 times in the UK, the album sold 33 million copies, and is one of the best selling records of all time, enabling Alanis Morrisette to become the first Canadian artist to hit double diamond sales.
Speaking of 'You Oughta Know', it has also been speculated for a long time that the track may have been inspired by Morrisette's break up with ex boyfriend David Coulier. The couple dated between 1992 and 1994. More on this here.
'Rattle And Hum' -U2
Many of these albums may have changed your life, well they have certainly changed the lives of the artists that made them!
Arriving in October 1988, 'Rattle And Hum' has often been described in reviews as propelling U2 from obscurity to international stardom.
It has also been hailed as "the best rock album ever made" by several outlets.
One of the key elements to this album is its star studded collaborations, including names such as Bob Dylan, B.B King, as well as covers including 'The Star Spangled Banner'.
Directed by Jimmy Lovine, the album includes 'When Love Came To Town', which saw U2 and B.B King join forces, a track which explores the theme of the redemptive power of love.
Another track featuring on the Nova collection is 'Desire', which debuted at number 3 in the UK. The track eventually provided U2 with their first Number 1 in Britain.
'Rattle And Hum' reached 360,000 album sales within its first week of released, as well as being certified Platinum four times.
Selling 15 million copies globally, 'Rattle and Hum' also topped the US charts in 1988.
Tune in to Nova from 1pm to listen to this album.
'Abbey Road' – The Beatles
'Abbey Road' turned out to be the 11th and final studio album that the fab four of Paul, Ringo, John and George would work together on.
Tensions soon started to arise, due to the presence of John Lennon's girlfriend Yoko Ono, who was clashing with the other band members.
Arriving in 1969, 'Abbey Road' was released just before the Beatles split up.
Selling 4 million copies, the album remained in the UK Charts for 81 weeks in total. It also spent 11 weeks on top of the US Billboard Charts following its release.
It includes tracks 'Here Comes The Sun', 'Come Together' and 'Something'.
You can listen to these tracks from the album and more from 4pm, right here on Nova!