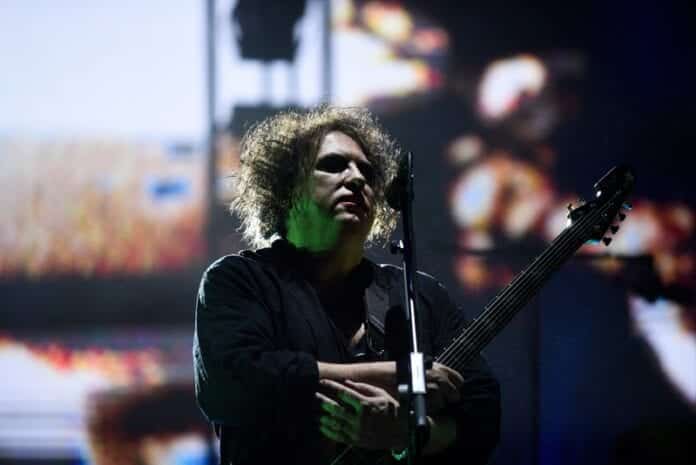 The Cure are auctioning off a signed guitar amp for a performing arts organisation in Australia.
The signed amp is up for auction on Ebay and you if you fancy bagging the item yourself, click here. At the time of writing, the highest bid was 4,950 AUD which is €3,177.
The Line 6 Spider V 120 amp was used by the band as part of their Sydney Opera House residency during 2019's Vivid Festival. At the shows, the band celebrated the 30-year anniversary of 'Disintegration' by performing the album in its entirety.
Proceeds from the sale of the amp will go to Milk Crate Theatre. The Sydney-based charity supports homeless people through workshops, theatre productions and community outreach.
In a statement, the organisation said "We believe that by bringing communities together and working from a strengths-based approach, we can a make positive impact on participant wellbeing," a statement from the organisation read."
The amp was signed by all five current members of The Cure – frontman Robert Smith, bassist Simon Gallup, guitarist Reeves Gabrels, keyboardist Roger O'Donnell and drummer Jason Cooper. It's one of five amps that The Cure signed the night of the 2019 'Disintegration' performance.
Robert Smith also signed a signature Schecter Ultracure guitar for a charity auction to help raise funds for UK road crew last year.
Recently, The Cure frontman appeared on Gorillaz's new album. He featured on the track 'Strange Timez' and you can check it out below.
The Cure spent most of 2020 working on their new album. The last record they released was their 2008 effort '4:13 Dream'.
Guitarist Reeves Gabrels said in an interview with Uncut that the new record has been inspired by the tough years the band has faced in recent times.
"It's a heavy and dark record. I don't think there are any short songs on there."
"The description of Lou Reed's 'Berlin' when it came out was that it was the 'Sgt Pepper' of depression' – I don't know if we're that psychedelic but we are that depressed."
He went on to add "it was a tough couple of years for everybody. A by-product of getting older is that people around you keep dying. We all lost relatives. Robert lost his brother, I lost a step-dad and father-in-law – while we were on the road too, which meant there was more strain."
Gabrels mentioned that the band has enough material for two or three albums which inevitably will delay their new album as they have to decide what songs to use.
Speaking about lockdown in an interview with NME, frontman Robert Smith said "I feel really sorry for the people who had plans this year, it's been a disaster. From my own perspective it's great that we got so much done last year. This year has just been – just not a year – it's just been completely weird."
However, Smith appreciated all the time he had on his hands during lockdown.
"Our whole idea for this year was really finishing off the album we started last year, me finishing off the solo album and also, finishing digitising decades of stuff in order to make this film with Tim Pope about the history of the band. So, it's actually benefited me because there have been no other distractions, so I've actually got a lot of what I wanted to do, done."