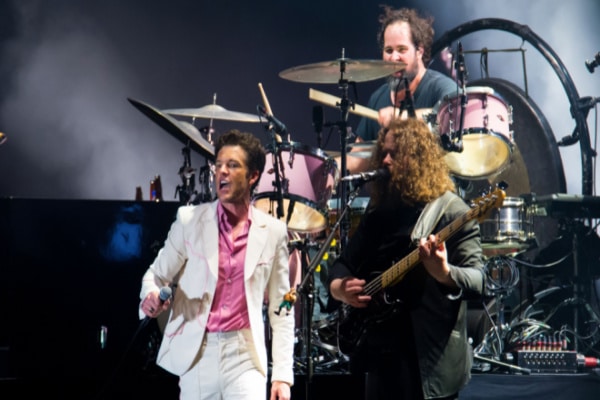 The Killers used their headline show at Madrid's Mad Cool Festival, to debut their latest single 'Boy'. You can check out footage of this live performance below.
Shared via the Las Vegas' bands' Instagram account, lead singer Brandon Flowers could be heard telling the audience, "Do you wanna be the first to hear us play a new song right now? It goes like this".  Check that out here.
After playing the track, the Killers' Brandon Flowers could also be heard asking the audience, "Si or no?".
This question was met with the overwhelming response of "si". More footage of this performance can also be seen here.
Killers Invite Fans To Drum With Them On Stage
When they are not debuting new singles, the Killers have also used their live sets to invite young fans onto the stage, for the chance to play drums with them on stage.
Several young fans from Ireland got this opportunity when the band performed at Dublin's Malahide Castle, as part of their live tour of the UK and Ireland, promoting their recent albums, 'Pressure Machine' and 'Imploding The Mirage'.
During one such gig, Brandon Flowers invited Dubliner Sam Connolly onto the stage. Connolly walked onto the stage, while 30,000 sang a chorus of "ole ole ole". Check that out here.
Meanwhile, Louis from Lucan also joined the Killers on stage at another Malahide gig. Footage of this can also be found here.
The band also repeated this feat at a show in Falkirk earlier that month, as part of this tour.
On the first of two live shows at the Scottish venue, 28 year old local drummer Kyle Grieve held a banner asking to join the band on stage.
"If you want to play on this stage, you have to mean business", Killers' Brandon Flowers told him.
The second night, Grieve held another banner, reading "Tonight I Mean Business".  "Let him come up", was Flowers' response. More on this here.