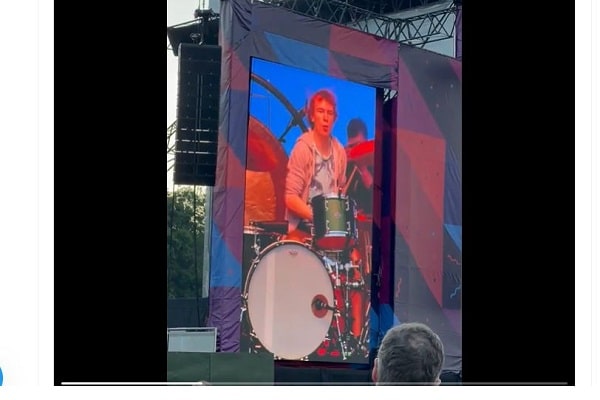 As per their tradition at their live concerts, the Killers once again invited a member of the audience onto the stage to perform live with the band.
Yesterday it was Sam Connolly from Monkstown, today it was Louis from Lucan's turn to perform alongside Brandon Flowers and co.
Check out the latest footage for yourselves below.
#louisfromlucan playing for @BrandonFlowers and @thekillers tonight @MalahideCastleG @entertainmentIE @radionova100 @ClassicHitsRdio pic.twitter.com/EvL3M6HVy0

— Ian Redmond (@ianredmond) June 15, 2022
Drummer Joining The Killers On Stage
Last week, a young drummer from Scotland joined the Killers on stage during their Falkirk gig.
Halway through their gig, 28 year old Kyle Grieve joined the Killers for a live rendition of their track 'For Reasons Unknown'.
Grieve who drums for Edinburgh band Retro Video Club, held up a sign asking to drum with the band.
"If you want to play on this stage, you have to mean business", frontman Brandon Flowers told the young drummer.
The following night, Kyle Grieve held a banner aloft with the message, "Tonight, I mean business" written on it. To which Flowers replied, "Let him come up". 
"It's all I ever wanted to do", Grieve said after the gig. "The Killers were my biggest influence, it's because of them I took up the drums". 
"On Tuesday morning I had another wee practice at their songs, but I knew them all anyway. When he [Flowers] invited me up on stage, my stomach sunk, I was just thinking 'Is this happening?". 
He continued, "He was shouting into the crowd asking me if I was Scottish and if I actually played. I never expected I'd end up on stage". 
"It's a dream come true, I'm a massive fan, I don't even remember playing and I've hardly slept, it was so amazing". 
Check out this performance, plus Nova's report on it here.
On top of this, Killers singer Brandon Flowers also paused halfway through their Manchester gig to check on an elderly crowdsurfer.