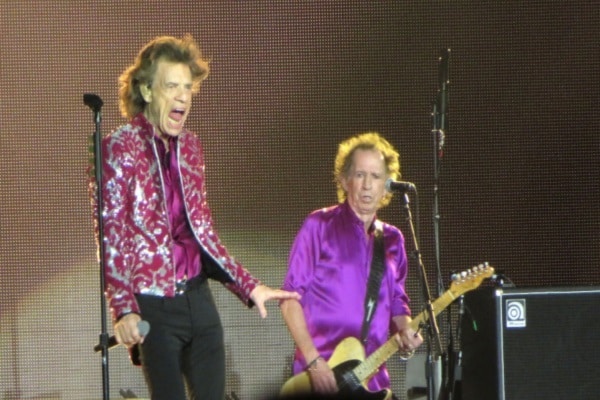 Would you like to listen to the article instead of reading it?
The original cover art from the Rolling Stones' album 'It's Only Rock 'n' Roll' is to go under the hammer.
The album which reached top spot in the Billboard US Chart following its release in 1974, will be sold as part of the Gotta Have Rock and Roll's first auction, which includes an interesting collection, which will feature works from renowned artists such as Picasso, Banksy, Haring, Warhol, Koons, Basquiat, and others.
However, among those artists, also features a very interesting piece of art which was created by Guy Peellaert, the artwork used on the original album cover from the Rolling Stones' "It's Only Rock and Roll". 
With minimum bidding beginning at $100,000, the cover art is expected to sell for any figure over $200,000.
"The Michaelangelo of Pop" – Designs Rolling Stones Cover Art
Belgian artist Guy Peellaert who designed this cover art, became renowned for creating a darker side to the Pop Art Movement. In 1974, Elle Magazine even described him as "the Michelangelo of Pop".
Despite his somewhat negative statements about the Rolling Stones in his first book 'Rock Dreams', Peelleart caught the eye of the Rolling Stones, who asked him to design the cover art for their album.
For this, Peelleart collected many photographs of celebrities, rockstars, body parts, faces, objects, backgrounds, along with other interesting objects.
Another interesting fact about Peelleart's artistic technique for this album, was his ability to replace his subjects heads with those of other individuals. This is a skill which involves precise scaling, to ensure a final project showing cohesion.
Peelleart also used a particular type of photo paper for this project, enhancing the colours used, and bringing them to life.
Final result? You get a piece of work which is both thought-provoking and innovative.
Check out this auction for yourselves here.
Speaking of auctions, a guitar which was once smashed on stage by Nirvana frontman Kurt Cobain was sold for $600,000 under the hammer, in an auction run by Julien's Auctions.
More on this from Nova here.