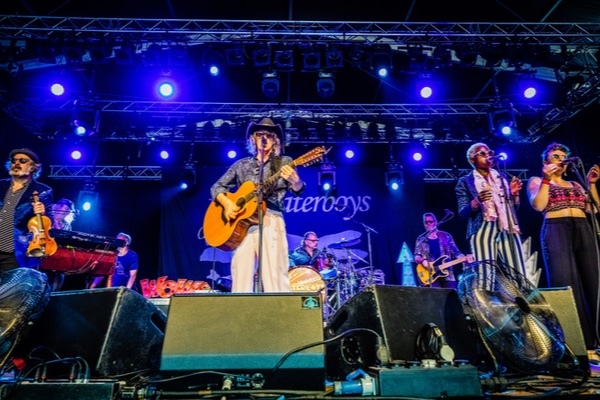 The Waterboys' Steve Wickham is to take a step back from touring after 21 years with the folk rock band.
Releasing a statement, Wickham has said that he wants to "concentrate on his work" for the time being. It also emerged that Wickham will return for future Waterboys projects, but he will not be touring with them for the foreseeable future.
"We wish him every success and look forward to when future Waterboys' projects bring him back for more adventures", the remaining Waterboys band members said in a statement. "We will keep you posted on what he gets up to". 
Our great friend & musical hero Steve Wickham is retiring from Waterboys touring . Steve will return for projects in the future but won't be part of the regular Waterboys touring line-up anymore. You can read comments from Steve, Mike & Brother Paul at https://t.co/OKPqixPTDP pic.twitter.com/ETDMvsV0xo

— Waterboys HQ (@WaterboysMusic) February 14, 2022
Their frontman Mike Scott also thanked Wickham for his "continued brotherhood". 
"Steve's been part of the heart and soul of The Waterboys for so long it's gonna be strange working without him. But I know we're not finished yet; there'll be more at some stage, and it will be great. I always enjoy his extra-curricular activities so I'm looking forward to seeing how they develop", he said.
"reconnected me with my creativity"
In a statement of his own, Steve Wickham explained his decision to retire from touring with the Waterboys.
"The downtime during Covid changed my life and priorities. It reconnected me with my creativity, and I need to go deeper with this", he said.
"In the recent years I'd become more of a legacy musician within the Waterboys, playing a big part in the older music onstage but less in the new music and recent albums," he added. "So I've decided to retire from Waterboys touring to concentrate on my own work and interests, which include my Sligo-based band No Crows, my art studies, solo music, theatre composing and things yet to come into focus". 
"I still consider myself part of the Waterboys family and will return from time to time as projects require". 
Wickham's departure comes after the band had also confirmed the upcoming release of their album All Souls Hill on April 22.
This LP features tracks "The Liar" and "All Souls Hill" which include haunting, collage visuals that tie in with the "psychodramatic soundscape" of the band's latest material.
Speaking of the album, Mike Scott also added, "The album is mysterious, otherworldly, tune-banging and emotional".
"I made it with Waterboys old and new and my co-producer, brilliant sonic guru Simon Dine. Its nine songs tell stories, explore dreamscapes, and cast a cold but hopeful eye on the human drama". 
The Waterboys are to perform at The Netherlands' Zuiderpark Live on May 25, as well as England's Cornbury Festival on July 8.