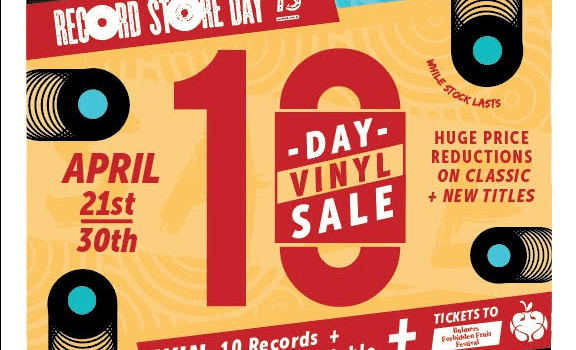 This Saturday will be the annual Record Store Day and this year will be its 10th year on the block. The day, which is aimed to promote the survival of our Record Stores, will see the launch of a whole host of new releases on Vinyl as well as in store performances.
Yours truly here, Nova, will be making an appearance in Tower Records with Dee Woods on site from 10am – 2pm and giving us updates as to all the goings on in the Store that day.
And quite a bit seems to be set to happen. Tower records will be hosting a whole host of musical acts throughout the day.
Starting at 12pm, They will have Kíla dropping by to play some tracks from their brand new live album. This will be the first time Kíla have released an album on vinyl and you will be able to pick up a copy in store on the day. In addition, they'll be having Interskalactic playing some choons. Better to all this, they will have a Teddy's ice cream van parked to rejuvenate all those Vinyl hunters on the day.
After you've eaten all the Teddy's Ice cream your body will allow, you can grab tickets there for their after party in the Liquor Rooms where you will be able to see Hamsandwich, Fiction Peaks, Katie Laffan and Third Smoke.
Record Store day this year will see some pretty epic releases on Vinyl including U2 with a 2017 mix of 'Red Hill Mining Town' that's being made available as a limited edition 12" picture disc.
Both Bowie and Prince have several posthumous releases lined up. Prince's include a handful of 12-inch singles (including "Sign O' the Times," "I Could Never Take the Place of Your Man" and "Batdance") and a seven-inch picture disc featuring "Little Red Corvette" and "1999." And Bowie's previously unreleased 1974 live album, Cracked Actor, will be shared as well as BOWPROMO, a reproduction of some of his earliest demo promos.
The Record Store Day line-up also offers an array of live albums, including a vinyl version of Bruce Springsteen and the E Street Band's legendary 1975 show at the Hammersmith Odeon in London.
Lou Reed's acoustic concert at the 1997 Meltdown Festival in London is also set for release as a double album April 22nd and Iggy Pop's recent Royal Albert Hall performance in support of his LP Post Pop Depression will arrive as a three-LP set with a 16-page book.
And for all us Outkast fans out there, just waiting to shake our polaroid pictures, Andre 3000 has a special releases of his eclectic interpretation of The Beatles' "All Together Now,".
Deadly Buzz all together.