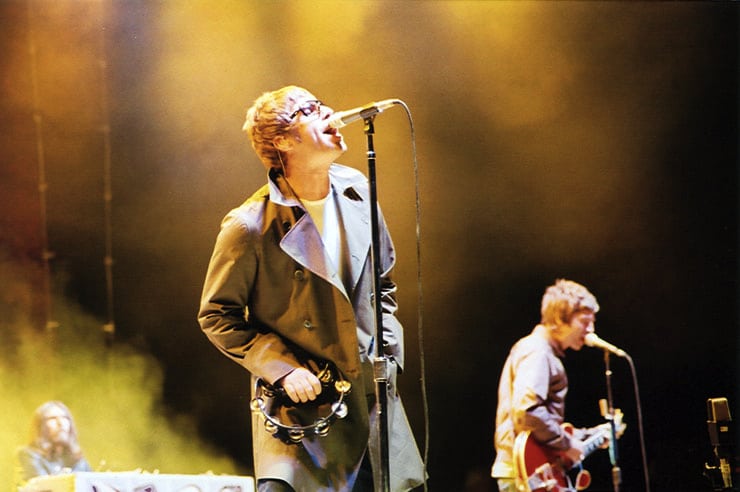 Oasis unveil exclusive live version of 'Acquiesce', recorded at London's Earl Court, the track will feature on a new record reissue.
The song is taken from the band's 14x platinum selling album, (What's The Story) Morning Glory?
It was released back in 1995 and went to number 1 in the Irish music charts.
In February 2014, Oasis announced on their website that their first three studio albums would be re-released. The new editions are part of the Chasing The Sun series from Big Brother Recordings. The remastered albums are being put out to celebrate the groups' 20th anniversary.
The first reissue was a three-disc version called Definitely Maybe: Chasing the Sun, released on May 19th. The landmark LP was initially released in 1994, the new Definitely Maybe edition includes rare, live and unreleased tracks from the band.
The new edition (What's The Story) Morning Glory?, has been remastered from the original tapes by Ian Cooper and the album's producer Owen Morris. The pair hunted down unheard demos and live material, as well as never-before-seen photos and memorabilia.
And if you're willing to splurge, the mega-deluxe box-set edition will include double 12″ vinyl of the album, triple CD album, a book of rare and unseen photos of the band and the singles 'Hello' and 'She's Electirc' on  7″ vinyl.
And if all that wasn't enough for you, they're throwing in a original promo (What's The Story) Morning Glory? on cassette, so dig up and dust off your walkmans.
Listen to the live version of 'Acquiesce' below.
(What's the Story) Morning Glory will be re-released on September 29th, the full track list is below.
Disc 1:
01. Hello
02. Roll With It
03. Wonderwall
04. Don't Look Back In Anger
05. Hey Now!
06. (untitled)
07. Some Might Say
08. Cast No Shadow
09. She's Electric
10. Morning Glory
11. (untitled)
12. Champagne Supernova
Disc 2:
01. Talk Tonight
02. Acquiesce
03. Headshrinker
04. It's Better People
05. Rockin' Chair
06. Step Out
07. Underneath The Sky
08. Cum On Feel The Noize
09. Round Are Way
10. The Swamp Song
11. The Masterplan
12. Bonehead's Bank Holiday
13. Champagne Supernova (Brendan Lynch Mix)
14. You've Got To Hide Your Love Away
Disc 3
01. Acquiesce (Live At Earls Court)
02. Some Might Say (Demo)
03. Some Might Say (Live at Roskilde)
04. She's Electric (Demo)
05. Talk Tonight (Live At Bath Pavilion)
06. Rockin' Chair (Demo)
07. Hello (Live At Roskilde)
08. Roll With It (Live At Roskilde)
09. Morning Glory (Live At Roskilde)
10. Hey Now (Demo)
11. Bonehead's Bank Holiday (Demo)
12. Round Are Way (MTV Unplugged)
13. Cast No Shadow (Live At Maine Road)
14. The Masterplan (Live At Knebworth Park)