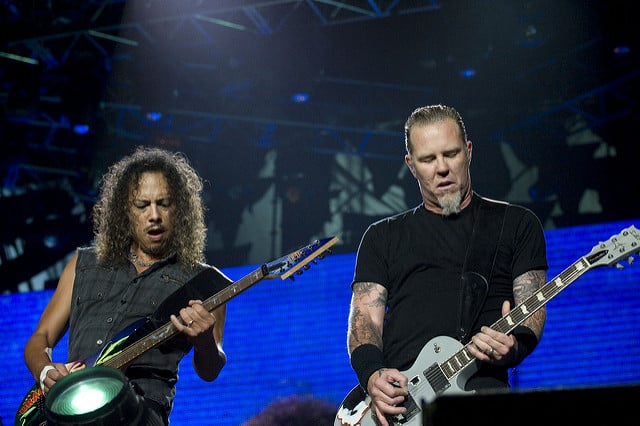 Metallica performed 'Enter Sandman' on children's toy instruments when they appeared on the Tonight Show with Jimmy Fallon last night.
The band were on the show to promote their new album, 'Hardwired… To Self Destruct', which is their first album since 2008's 'Death Magnetic'. The band had previously appeared on the late night show in September to play their song 'Moth Into Flame', one of the first songs we got to hear from the new album.
Metallica's comedic performance on the American show last night included help from Jimmy Fallon and his house band, 'The Roots'. You can watch the performance below:
Meanwhile, guitarist Kirk Hammett recently said that the band would like to release an album of covers. He explained, "While we were doing the Bridge show last month, we had a bunch of covers that we were throwing around and playing. I just realized how fun it is to actually play other peoples' songs in this band," He continued, "No matter what song you give us, when we start playing it, it's just going to naturally sound different."
Hammett added, "I recognize there's a lot of uniqueness to that and a lot of beauty and a lot of fun. It kind of got me thinking and other guys in the band thinking that maybe it's time to think about doing a covers album. Just a fun sort of thing, something that we want to do that we think would be fun to share with everyone."
'Hardwired… To Self Destruct' will be released tomorrow, 18 November.
Photo Cred: Mike Murga